Senate Democrats' Surprise Gun-Control Filibuster Ended at 2:11 a.m.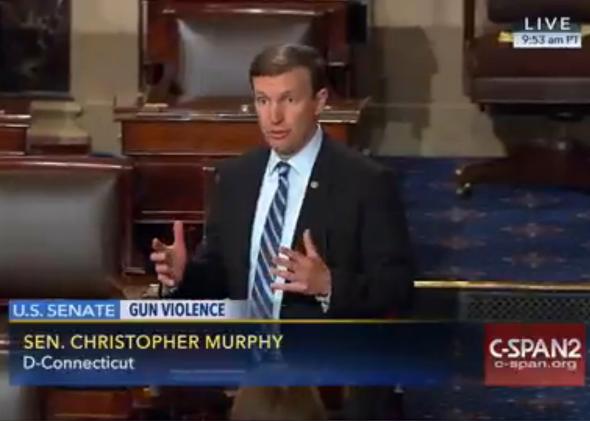 Update, June 16, 12:20 p.m.: We're informed that Hawaii Democrat Brian Schatz also joined the filibuster at some point Wednesday or Thursday morning.
Update, June 16, 8:15 a.m.: Murphy ended his filibuster at 2:11 a.m., meaning that it lasted for 14 hours and 50 minutes, and has announced that Senate Republicans have agreed to hold votes on universal-background-check and terror-watch-list legislation. He ended his remarks by telling the story of 6-year-old Sandy Hook victim Dylan Hockley and the teacher's aide named Anne Marie Murphy who died trying to protect him.
Update, 10:30 p.m.: We're coming up on the 12-hour mark of the filibuster and Sen. Chris Murphy is still impressively lucid. Far from reading from the dictionary, or reciting Dr. Seuss' Green Eggs and Ham as Sen. Ted Cruz once did, Murphy is on message, discussing the issue of guns in America with different senators one by one without relinquishing the floor. That's not to say there aren't a few signs of fatigue, you can see the mental gears working a bit slower, with a stutter here and there, but I think that's just attributable to science, and the slippage is only slight for an 11-hour speechathon. His hair game is still astonishingly strong. And it looks sans-product.
Also, Sens. Maria Cantwell, D-Washington, and Tim Kaine, D-Virginia, have joined the filibuster.
Update, 9:45 p.m.: Here's a list of the senators who have joined Wednesday's filibuster, more or less in order of appearance (via the good people at the Washington Monthly):
Sen. Richard Blumenthal (D-CT), Sen. Dick Durbin (D-IL), Sen. Cory Booker (D-NJ), Sen. Joe Manchin (D-WV), Sen. Bill Nelson (D-FL), Sen. Ben Cardin (D-MD), Sen. Ed Markey (D-MA), Sen. Pat Leahy (D-VT), Sen. Pat Toomey (R-PA), Sen. Al Franken (D-MN), Sen. Patty Murray (D-WA), Sen. Gary Peters (D-MI), Sen. Bob Casey (D-PA), Sen. Ron Wyden (D-OR), Sen. Elizabeth Warren (D-MA), Sen. Jeff Merkley (D-OR), Sen. Bob Menendez (D- NJ), Sen. Jeanne Shaheen (D-NH), Sen Kirsten Gillibrand (D-NY), Sen. Claire McCaskill (D-MO), Sen. Mark Warner (D-VA), Sen. Amy Klobuchar (D-MN), Sen. Sherrod Brown (D-OH), Sen. Debbie Stabenow (D-MI), Sen. Tom Carper (D-DE), Sen. Tammy Baldwin (D-WI), Sen. Tom Udall (D-NM), Sen. Michael Bennet (D-CO), Sen. Mazie Hirono (D-HI), Sen. Martin Heinrich (D-NM), Sen. Sheldon Whitehouse (D-RI), Sen. Jack Reed (D-RI), Sen. Joe Donnelly (D-IN), Sen. Angus King (I-ME).*
Update, 9:30 p.m.: Sen. Chris Murphy is still standing on the Senate floor doing something NPR would like to inform you is not, in fact, a filibuster.
NPR's Ron Elving says the action meets all but one of the requirements for being called a filibuster. Typically, senators use the maneuver to stop a bill from passing the Senate. This time around, however, the intent is not to delay the appropriations bill, but to force action on gun control measures.
Update, 4:20 p.m.: Recent speakers (who, to reiterate, are speaking under the pretense that they are in dialogue with original filibuster-er Chris Murphy, and who end their remarks by asking him more or less rhetorical questions) include Massachusetts' Elizabeth Warren, Michigan's Gary Peters, Oregon's Jeff Merkley, Oregon's Ron Wyden, Pennsylvania's Bob Casey, and Washington's Patty Murray.
Update, 3:05 p.m.: Pennsylvania Sen. Pat Toomey—co-sponsor of the failed post–Sandy Hook background-check bill—just became the first Republican to speak during today's filibuster, which has now gone on for nearly four hours. Minnesota Democrat Al Franken and Vermont Democrat Pat Leahy have also made remarks.
Update, 2:35 p.m.: The filibuster is continuing; the Democrats speaking have now included Florida's Bill Nelson, Illinois' Dick Durbin, Maryland's Ben Cardin, Massachusetts' Edward Markey, New York's Charles Schumer, and West Virginia's Joe Manchin. (I may have missed some names—they're trading off fairly frequently.) While the classic image of a filibuster is of someone reading the Constitution or some other lengthy document of symbolic significance, the senators are thus far mostly just outlining the basic arguments for instituting gun-sale background checks and discussing how the issue relates to Sunday's terror attack in Orlando.
For context on the issue, you can read Slate's William Saletan advocating background checks here, and read his rejoinder to arguments against background checks here; click here to read Mark Joseph Stern on why it would be a mistake to use the no-fly terrorist watch list in particular as a mechanism for keeping weapons out of the hands of extremists. Click here for Jamelle Bouie's explanation of why it's been impossible in recent years for background-check expansions to pass Congress. And click here for an interview that Ruth Graham did with Connecticut Rep. Jim Hines, who represents a district near Newtown and who has in the days since Orlando called Congress' failure to act on gun control an "abomination" that he is morally and religiously obligated to denounce. (Connecticut senator Chris Murphy began today's filibuster and Connecticut senator Richard Blumenthal was one of the first other Democrats to speak.)
*Correction, June 16, 2016: This post originally misidentified Joe Donnelly as a Republican.