Audio Reveals Duke's Coach K Lied About Post-Game Exchange with Oregon Player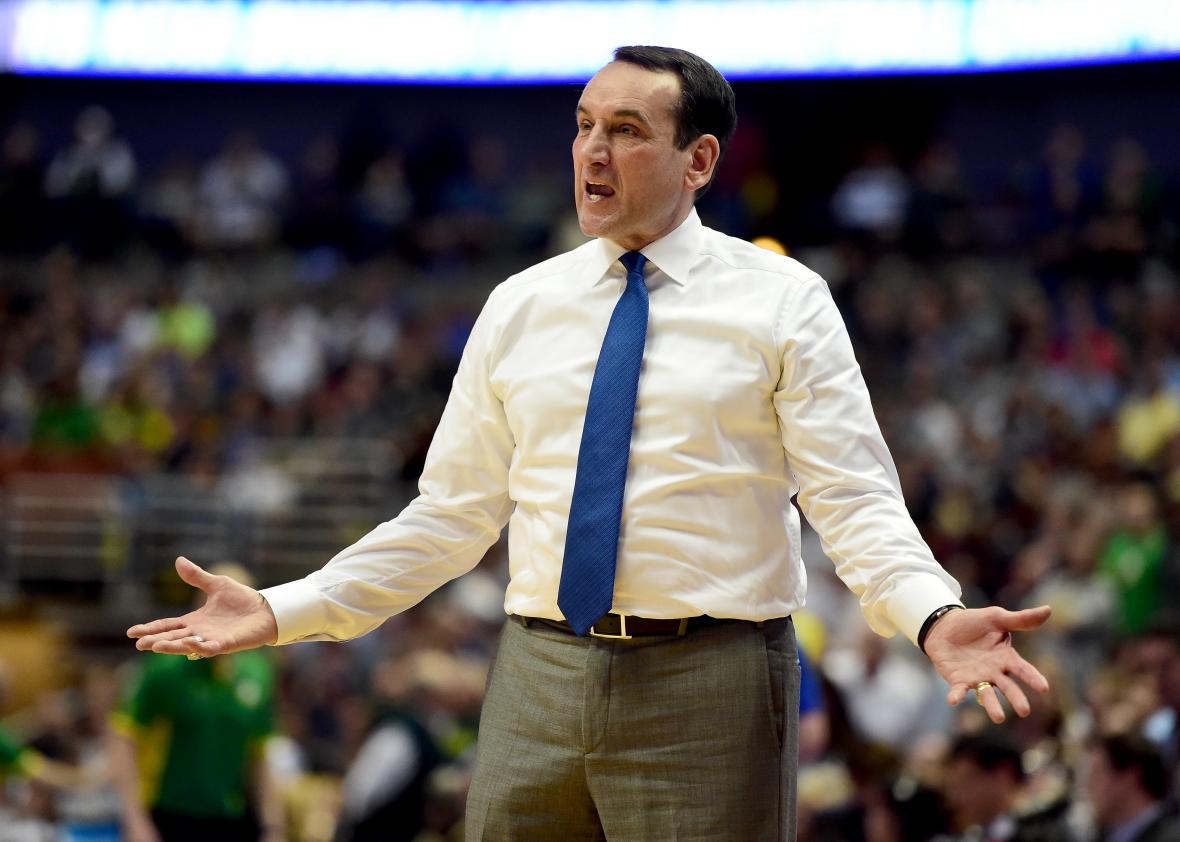 On Thursday night, Duke lost to Oregon, 82-68, in the Sweet 16. The final margin was 14 rather than 11 because the Ducks' Dillon Brooks made a long three-pointer with less than 10 seconds to go. After the game, Brooks and Duke coach Mike Krzyzewski had an exchange in the handshake line. The content of that exchange has been in dispute. Now that we have the audio of their brief conversation, it's clear that one person hasn't been honest: Krzyzewski.
Oregon's Dillon Brooks said Krzyzewski told him that he's "too good of a player to be showing off at the end," after the sophomore hit a 3-pointer near halfcourt when the Ducks had an 11-point lead with 10 seconds to play. Brooks said he told Duke's coach that he was right.
When asked directly about Brooks' claim that he'd said Oregon's top scorer was "too good of a player to be showing off at the end," Krzyzewski denied it.
"I didn't say that," Krzyzewski said, indignantly. "You can say whatever you want. Dillon Brooks is a hell of a player. I said, 'You're a terrific player.' And you can take whatever he said and then go with it."
On Friday, CBS released new footage of the post-game handshake line, this time with sound. As Krzyzewski grabs Brooks' hand and brings him close, he says, "You're too good of a player to do that. You're too good of a player." Brooks' sheepish response: "I'm sorry."
While Krzyzewski doesn't say the exact words "too good of a player to be showing off at the end," that is the exact message of the coach's smarmy lecture. He's not telling Brooks that he's a terrific player. He's telling him that he's not playing the game the right way.
"At the end of the game, there was a difference in the shot clock and the game clock," Altman said. "I told Dillon to shoot it. So if anybody's got a problem with it, it should be directed at me. He was acting on my orders. I told him to shoot it. I didn't think he'd make it. It was a 30-footer, but there was a five-, six-second difference there."
The video supports Altman's contention. As the clock winds down, you can see Altman point at the basket and mime a shooting motion. A few seconds later, Brooks takes the shot.
After Duke's student newspaper gives the Blue Devils a B+ at the halfway point of the season, Coach K invites the paper's sports staff in for a get-together with the team and his assistant coaches. "I'm not looking for puff pieces or anything like that," Krzyzewski tells the student journalists, "but you're whacked out and you don't appreciate what the [bleep] is going on and it [bleeps] me off." Coach K later apologizes, but only for using profanity. "I haven't had too many experiences lately where what I said, the reason I said it, was misconstrued,'' he says to the New York Times. "I've got to be clearer."
That meeting was "taped surreptitiously by a student-reporter," according to the Times. The audio has never been released.
Update, March 26, 2016: On Saturday afternoon, Mike Krzyzewski released a statement apologizing for lecturing Oregon's Dillon Brooks in the post-game handshake line, and for denying in a press conference that he'd done any such thing. Here's the Duke coach's statement in full:
Today, I spoke with Oregon head coach Dana Altman and apologized to him for my remarks to Dillon Brooks following our game. It is not my place to talk to another team's player and doing so took the focus away from the terrific game that Dillon played. In the postgame press conference, I reacted incorrectly to a reporter's question about my comment to Dillon. Clearly, the story that night was about Oregon advancing to the Elite Eight, and the outstanding game they played. I sincerely hope I did not create a distraction for Coach Altman and his team at this critical time of year. Certainly, I have the utmost respect for the Oregon program and their tremendous accomplishments.