European Leaders Reach Bailout Deal; Next Step Is Greek Parliament Vote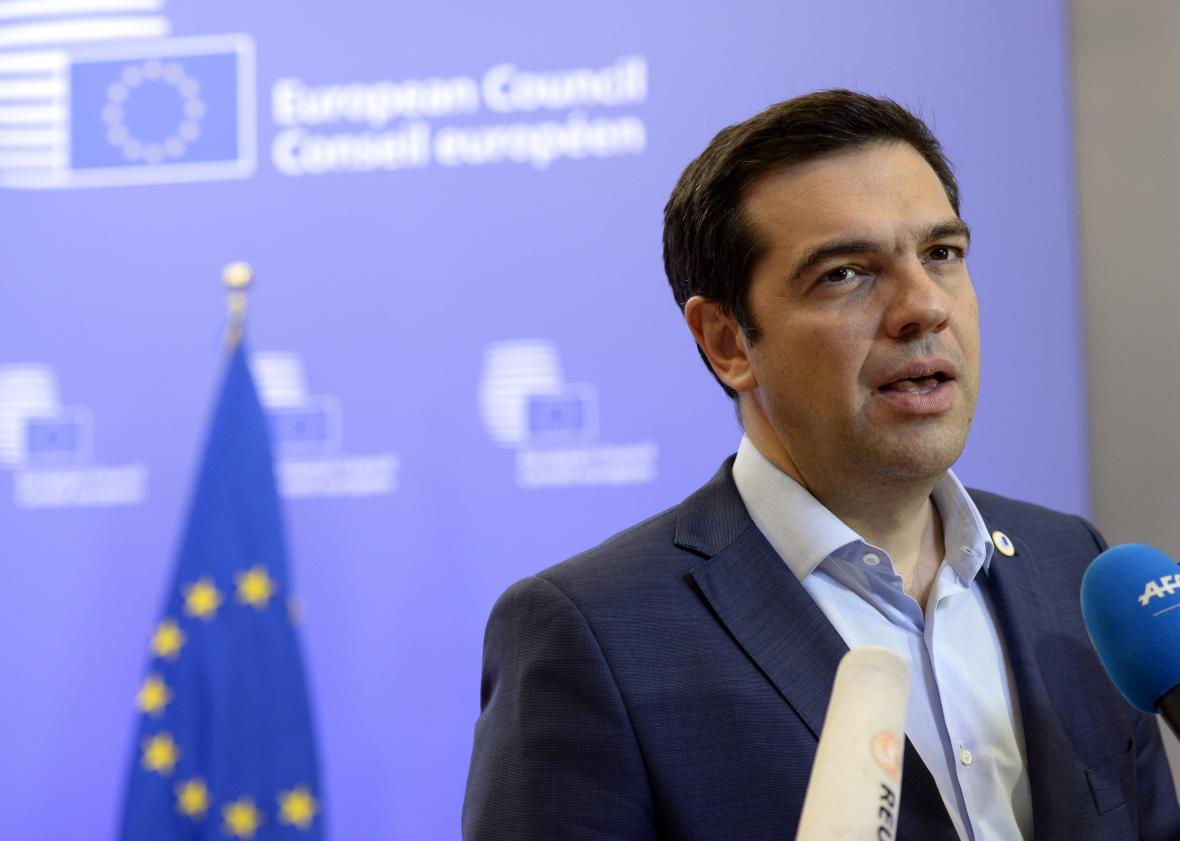 Negotiations in Brussels have resulted in a tentative deal to keep Greece in the eurozone and avert a potential financial collapse. Or, as European Council President Donald Tusk told reporters Monday, "Someone can say that we have an agreekment."
Tusk could be forgiven for being a little punchy after plowing through 17 hours of talks to arrive at the agreement, which was reportedly accepted by Greek Prime Minister Alexis Tsipras following a "mental waterboarding" on Sunday by German Chancellor Angela Merkel and French President François Hollande.
Tusk, Eurogroup President Jeroen Dijsselbloem, and European Commission President Jean-Claude Juncker appeared before cameras at around 10 a.m. Brussels time Monday to outline the deal.* Greece will receive short-term "bridge" financing and qualify for up to 86 billion euros in bailout funds. There will be some easing of existing loan terms, with maturity and repayment of debts on a longer timeline, but not the debt-trimming "haircut" Greece had been seeking.
In return, Greece will have to agree to a long list of concessions, which will need to be passed as legislation by its parliament by the middle of this week. They include:
Reforms to ensure sustainability of pension plans.
Updates to civil codes to speed up, and reduce the cost of, the civil justice system.
Establishment of a private fund, housed in Athens, to "monetize" 50 billion euros' worth of Greece's public assets, with the proceeds used to make debt payments and recapitalize the country's banks.
Privitization of electricity services.
Increases in tax revenue.
Relaxed commercial and labor restrictions in areas including "pharmacy ownership, milk, and bakeries."

Tsipras returns to Athens with a short window to convince Greek lawmakers to agree to the reforms, a task that could require rough treatment of anti-austerity hard-liners within his own party. From Reuters:
Some diplomats questioned whether it was feasible to rush the package through the Greek parliament in just three days. Tsipras is set to sack ministers who did not support his negotiating position and make dissident lawmakers in his Syriza party resign their seats, people close to the government said.
Tsipras can claim a few small victories—for example, Germany had insisted that the 50 billion-euro privitization fund be housed in Luxembourg under the stewardship of a German development bank, but Tsipras succeeded in keeping the assets in Greece.
Overall, though, it's hard to see the outcome in Brussels as anything short of total capitulation by Greece. Bloomberg described Tsipras as a "beaten dog" and, as the Guardian noted, Tsipras even agreed to seek rollbacks of austerity-easing laws passed after his election. From the agreement:
With the exception of the humanitarian crisis bill, the Greek government will reexamine with a view to amending legislations that were introduced counter to the February 20 agreement by backtracking on previous programme commitments or identify clear compensatory equivalents for the vested rights that were subsequently created.
If Tsipras can get the needed support in parliament, the deal would go to the other European Union member states for formal ratification, which must be unanimous. At least seven countries will reportedly hold parliamentary votes on the deal, a process that Eurogroup President Dijsselbloem said that he hoped would be concluded by the end of the week. "After I try to get a few hours' sleep," he said, he would go back to work Monday with EU finance ministers, securing emergency funds to keep Greece afloat in the short term.
*Correction, July 13, 2015: This post originally misspelled Jeroen Dijsselbloem's first name.