UPDATE: Oklahoma Officials Revise Tornado Death Toll Down to 24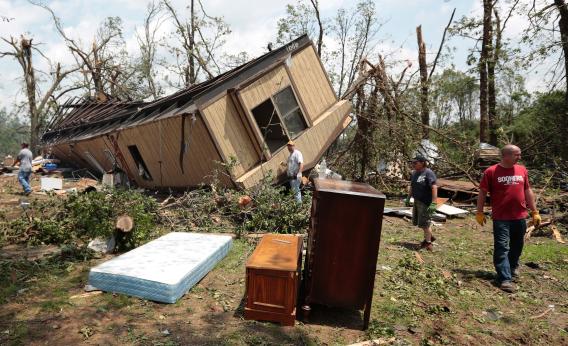 A powerful, two-mile-wide tornado tore through Moore, Okla., Monday afternoon, killing an untold number of people, leveling at least two elementary schools, and destroying countless homes and buildings in the process. The latest word out of the Oklahoma City suburb puts the official death toll at 24, a figure well below Monday's official estimates. Still, things don't look good and the tally may still climb higher. "Numerous neighborhoods were completely leveled," Sgt. Gary Knight of the Oklahoma City Police Department told the New York Times by telephone. "Neighborhoods just wiped clean."
We'll update with any major developments, but for now you can view the video, photos and updates from Monday's live-blog below.

Update Tuesday, 9:50 a.m.: I have no idea how this type of mix-up could happen at a medical examiner's office, but I don't think anyone's going to be complaining (this morning, at least). The Oklahoma City Medical Examiner's Office now says that the confirmed death toll has been revised down to 24. "We have got good news," Reuters quotes Amy Elliott, the office's chief administrative officer, as saying this morning. "The number right now is 24." She added, in an apparent explanation for the confusion, that "there was a lot of chaos," and that earlier figures may have included double-reporting of some casualties.

The new figure is a sharp decline from the last official tally offered up by state officials this morning of 91 confirmed death, a number that was widely reported by the New York Times and others. It's also higher than the two updates that were offered by authorities prior to that, so it's safe to say there's a lot of chaos right now. The death toll, of course, may still rise as the search and rescue effort continues.

Update Tuesday, 8:56 a.m.: The toll now stands at 91 and counting, at least 20 of which were children who were in the Plaza Towers Elementary School when the twister tore through town, according to state officials. Hospitals reported at least 145 people injured, 70 of them children, as of Tuesday morning. "They've been coming in minute by minute," Brooke Cayot, a spokeswoman for Integris Southwest Medical Center in Oklahoma City, said of the injured.

Update Monday, 8:55 p.m.: The numbers keep getting worse. The latest death toll as reported by the state medical examiner is 51, at least seven of which were children who were found dead in the rubble of the Plaza Towers Elementary School. The Associated Press, meanwhile, reports that more than 120 people—including about 70 children—are being treated at area hospitals. It's shaping up to be a long night in Moore, where first responders continue to search for survivors.

Update 8:23 p.m.: The Associated Press brings us the latest fatality update and, as feared, it's not good: 37 people have been confirmed dead, according to the state medical examiner's office. Expect that number to climb before the night's over.

Update 7:30 p.m.: At least 10 people have been confirmed dead by the Oklahoma City medical examiner, according to NBC News. An estimated 200,000 people were believed to be in path of the tornado, so the death toll is expected to climb higher as the rescue effort continues. It will likely be hours, if not days, before we have a final tally. Right now most of the nation's attention is focused on the children—aged between 5 and 8—who are still unaccounted for at a local elementary school that was leveled. But first responders are also going door-to-door throughout the rest of the town.
Update 6:52 p.m.: Still no word on an official fatality count. "Just being down here and seeing the rubble and the devastation, I can't imagine that we won't have any, but I pray God that we won't," Oklahoma Highway Patrol spokeswoman Betsy Randolph told reporters.

Update 6:32 p.m.: A preliminary report from the National Weather Service rated the storm as at least an EF4, the second-worst category on the scale used by meteorologists. To earn the EF4 classification, a storm has to have winds recorded at between 166 and 200 miles per hour.

Update 6:12 p.m.: Some much-needed good news. NBC News reports that all the students from 4th, 5th and 6th grade at Plaza Towers Elementary are believed to be accounted for. (They appear to have been evacuated before the tornado hit, so it appears as though they were not among the 75 students previously sheltered within the school). KWTW, meanwhile, reports all students at Briarwood Elementary, the second school badly damaged by the storm, are accounted for.

Update 6:03 p.m.: KFOR's meteorologist says that a conservative estimates pegs the damage from today's storm at three times that of the historic 1999 twister. Here's a look the paths the two storms took.
Update 5:50 p.m.: Here's a time lapse of the storm.
Update 5:43 p.m.: KFOR is reporting from the scene that at least 75 students and staff were sheltered inside one of the schools (Plaza Towers) when the storm hit. Police, meanwhile, have confirmed that one of the elementary schools took a direct hit from the storm, although they haven't said which one. Gary Knight with the Oklahoma City Police Department told the Associated Press that unnamed school suffered "extensive damage" although he offered no information on any casualties.

Update 5:30 p.m.: When you hear the anchors talk about May 3rd, they're talking about a previous tornado that hit Moore on that date in 1999. That F5 twister—which brought with it winds that topped 300 miles per hour, the most powerful ever recorded—killed three dozen people and did an estimated $1 billion worth of damage. Here's old footage of that storm to give you an idea of just how powerful it was. It's obviously early, but several local reporters have already suggested that today's storm appears to have done more damage. (One OKC meteorologist suggested that today's storm was the "most destructive tornado in history of the world"):