No Big Deal, but This Researcher's Theory Explains Everything About How Americans Parent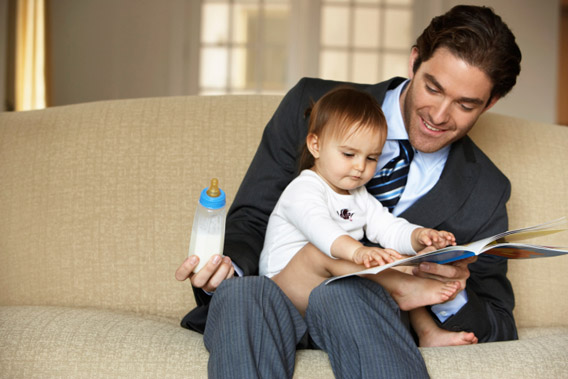 New parenthood is a desperate search for certainty: When you start knowing nothing, you are desperate to know something. And when you finally figure that something out—how to get this creature to eat or sleep—that becomes the answer. Any parent this side of sanity clings to that certainty for dear life.
Sara Harkness, a professor of human development at the University of Connecticut, has spent decades compiling and analyzing the answers of parents in other cultures. They have a lot of answers, it turns out. And they are very certain about those answers. To read her work and the work of her colleague and husband, Charles Super, is to be disabused of a lot of certainties about child rearing. For the anxious, easily unsettled parent, it should be followed by a chaser of Brazelton and Karp, just to restore your world to its locked and upright position.
It's not a shock that child care varies across cultures, of course. But it is still hard to comprehend just how many ways there are of looking at a baby. I have been reading various ethnographic works on child rearing for years now, and yet, when I talked to Harkness last week, I started by asking her what child-rearing practices vary most among cultures. This is a worthless question. All child-rearing practices vary hugely among cultures. There's only a single shared characteristic, Harkness says: "Parents everywhere love their children and want the best for their children." (Even this is a controversial statement; some academics would argue otherwise.) Everything else, including the way in which they love their children and what the best might mean, is subject to variation.
I am not talking about National Geographic bare-breasted, hunter-gatherer pictorials. Those are the most memorable variations in child care, the sort we can see: Think of the live-in Mongolian livestock in Babies. What makes the work of Harkness so interesting is that it highlights the variations we are unable to see. Even when compared to other Western cultures, we Americans are a deeply strange people.
Every society has what it intuitively believes to be the right way to raise a child, what Harkness calls parental ethnotheories. (It is your mother-in-law, enlarged to the size of a country.) These are the choices we make without realizing that we're making choices. Not surprisingly, it is almost impossible to see your own parental ethnotheory: As I write in Baby Meets World, when you're under water, you can't tell that you're wet.
But ethnotheories are distinct enough, at least to an outsider, that they are apparent in the smallest details. If you look just at the words parents use to describe their children, you can almost always predict where you are in the world. In other words, your most personal observations of your child are actually cultural constructions. In a study conducted by Harkness and her international colleagues, American parents talked about their children as intelligent and even as "cognitively advanced." (Also: rebellious.) Italian parents, though, very rarely praised their children for being intelligent. Instead, they were even-tempered and "simpatico." So although both the Americans and the Italians noted that their children asked lots of questions, they meant very different things by it: For the Americans, it was a sign of intelligence; for the Italians, it was a sign of socio-emotional competence. The observation was the same; the interpretation was radically different.
Every society interprets its children in its own way: The Dutch, for example, liked to talk about long attention spans and "regularity," or routine and rest. (In the Dutch mind, asking lots of questions is a negative attribute: It means the child is too dependent.) The Spanish talked about character and sociality, the Swedes about security and happiness. And the Americans talked a lot about intelligence. Intelligence is Americans' answer. In various studies, American parents are always seen trying to make the most of every moment—to give their children a developmental boost. From deep inside the belly of American parenthood, this is so obvious it isn't even an observation. It is only by looking at other societies that you can see just how anomalous such a focus is.
Looking back at her research, Harkness can trace the history of how we got this way. During interviews with middle-class Boston parents in the 1980s, she and her colleagues kept hearing about the importance of "special time" or "quality time": One-on-one time that stimulated the child and that revolved around his interests. Nearly every American parent mentioned it, she says. "It was this essential thing that all parents seemed to think they should do—and maybe they weren't doing enough of it."
This seems obviously reasonable. I would likely say "special time" with ironic quotation marks, but I still feel pretty much the same way those parents did. How else would a halfway-decent parent feel? But when Harkness talked to other halfway-decent parents in other cultures, even other seemingly very similar Western cultures, they were oblivious to this nagging feeling. Harkness recalls that "in the Netherlands, a father said, 'Well, on Saturday mornings, my wife sleeps late, I get up with the kids, and I take them to recycle the bottles and cans at the supermarket.' " That was their special, stimulating, child-directed time: recycling bottles and cans. Asked if an activity was developmentally meaningful, the Dutch parents would brush off the question as irrelevant or even nonsensical. Why think of every activity as having a developmental purpose?
What you notice reading these accounts is how much more intensive—how much more arousing—American parenting is. Harkness has characterized it as trying "to push stimulation to the maximum without going over the edge into dysregulation of basic state control." This is true even if you think you're different—that you're not like those other parents at the playground. Culture operates at a deeper level than any individual parenting choice. In a survey Harkness and her colleagues conducted of parents in Western cultures, the last question was, "What's the most important thing you can do for your child's development right now?" "The American parents almost to a person said, 'Stimulation—stimulation is what my child needs.' Interestingly, even the attachment parents, who were very adamant about being different in a lot of ways—they still gave the same answer." And all the parents meant a very particular sort of stimulation. The parents talked about themselves in almost curatorial terms: They'd create a setting for intellectual growth. It went almost without saying that the actual stimulation came from the toys.
But ask an Italian mother about stimulation and her thoughts immediately go to her husband: He comes home and makes the baby jump, she told the researchers. "He is the 'baby skier,' " she says, wonderfully. "The 'baby pilot.' " Meanwhile in Spain, everyone—experts, doctors, mothers—stressed the importance of a stimulating daily walk: You see the people in your neighborhood. Objects aren't stimulating. People are stimulating.
Of course, we have now taken special time and squared it. It's now translated through the buzz-phrased, consultant-happy language of early cognitive development, with talk of "developmental spurts," and "brain architecture," and "maximizing potential," and "making new connections," and "pruning synapses."
All this worries Harkness. "We're on the verge of trying to export very ethnocentric ideas about what competencies children need to develop at a very early age, which is really unfortunate," she says. "The U.S.'s almost obsession with cognitive development in the early years overlooks so much else."
What else? Well, nothing in American parenting is anything like the concept of ng'om, which is used by the Kipsigis people in rural Kenya to describe children who are especially intelligent and responsible. This concept of intelligence, as Harkness and Super have written, highlights "aspects of social competence, including responsibility and helpfulness." These aspects, they add dryly, "have tended to be overlooked in Western formal theories of children's intelligence."
Part of the lesson of parental ethnotheories is that when we look for certain qualities, we stop seeing others. It's a cruel circle: Because our version of intelligence overlooks ng'om, we don't prize it. Because we don't prize it, we don't see it. Because we don't see it, we obviously don't encourage it or acknowledge it—we don't create its condition for possibility. And yet none of this stops us from wondering, years later, why our children insist on leaving their damn coats on the floor.