Will Actual Human Beings Navigate the Amazon Delivery Drones?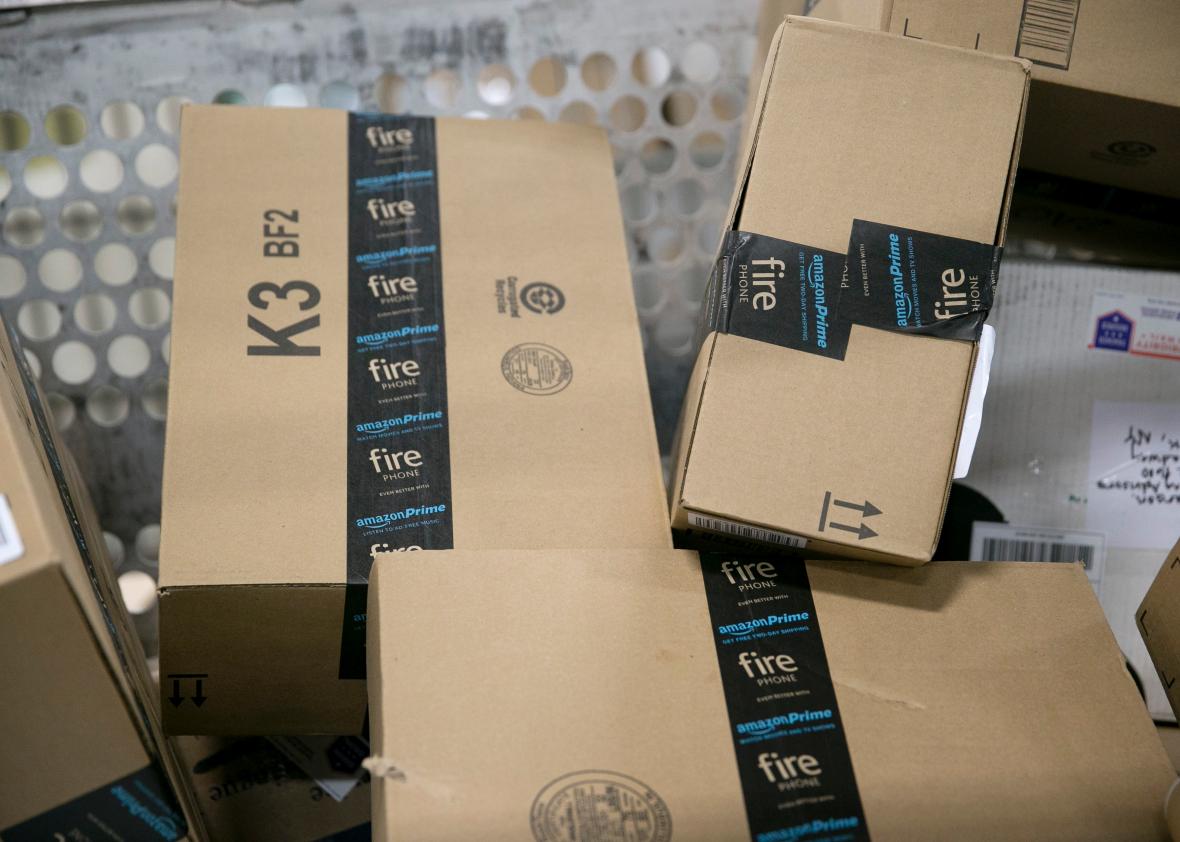 On Cyber Monday, Amazon released a promotional video touting Amazon Prime Air, its still-theoretical delivery service that promises to revolutionize package delivery by replacing human laborers with compliant, inexpensive drones. "This is a story from the not-too-distant future," says the narrator, Top Gear's Jeremy Clarkson, as he introduces "a miracle of modern technology": a prototype delivery drone that takes off vertically like a helicopter and flies horizontally like an airplane. "This one can fly for 15 miles," says Clarkson in the video. "And it knows what's happening around it. It uses sense-and-avoid technology to, well, sense and then avoid obstacles in the ground and in the air." And, what's more, it'll never ask if it can come inside and use your bathroom. Sounds great!
Of course, the rise of Amazon Prime Air probably doesn't sound so great if you're one of the many Americans who are currently employed in the package-delivery business. And, upon closer inspection, it doesn't sound so great for those of you who are hoping to become drone pilots. As Greg Nichols at ZDNet noted Tuesday, "the video raises an interesting question: Who exactly is going to fly those delivery drones?" Nichols proceeds to answer his own question by observing that if Amazon has its way, the drones will likely fly themselves.
Nichols notes that the Federal Aviation Administration recently granted a commercial exemption for a fully autonomous drone system—the first exemption of its kind. (Before entrepreneurs can use drones for commercial purposes in the United States, they must first obtain FAA permission to do so; these FAA "exemptions" are granted on a case-by-case basis.) The system, a joint venture of the companies PRENAV and Hawk Aerial, works by creating a highly accurate 3-D map of the relevant terrain and then using the map to chart a flight path for the drone. This system is specifically intended for use in infrastructure inspections—surveying cell towers to check for loose screws, that sort of thing—but, as Nichols notes, "it's not difficult to envision the technology migrating to Amazon's drones as part of a suite of sensing and guidance technology."
It's more than "not difficult to envision" the technology—it's very easy. Autonomous drone flight is a technical inevitability. As existing technology continues to improve, drones will get better and better at navigating varied terrain without direct human supervision. I have no doubt that the system Amazon outlines in this video will set new standards in sensing and guidance technology. But it's important not to confuse technical inevitabilities with social inevitabilities. It is in Amazon's best interest to make you think that delivery drones are coming whether you like them or not, but that doesn't have to be the case. Technological progress may be inevitable, but the details of its implementation are not.
This article is part of a Future Tense series on the future of drones and is part of a larger project, supported by a grant from Omidyar Network and Humanity United, that includes a drone primer from New America.
Future Tense is a partnership of Slate, New America, and Arizona State University.