Ben Affleck Condemns Harvey Weinstein, and His Own History of Alleged Sexual Harassment Comes Under Fire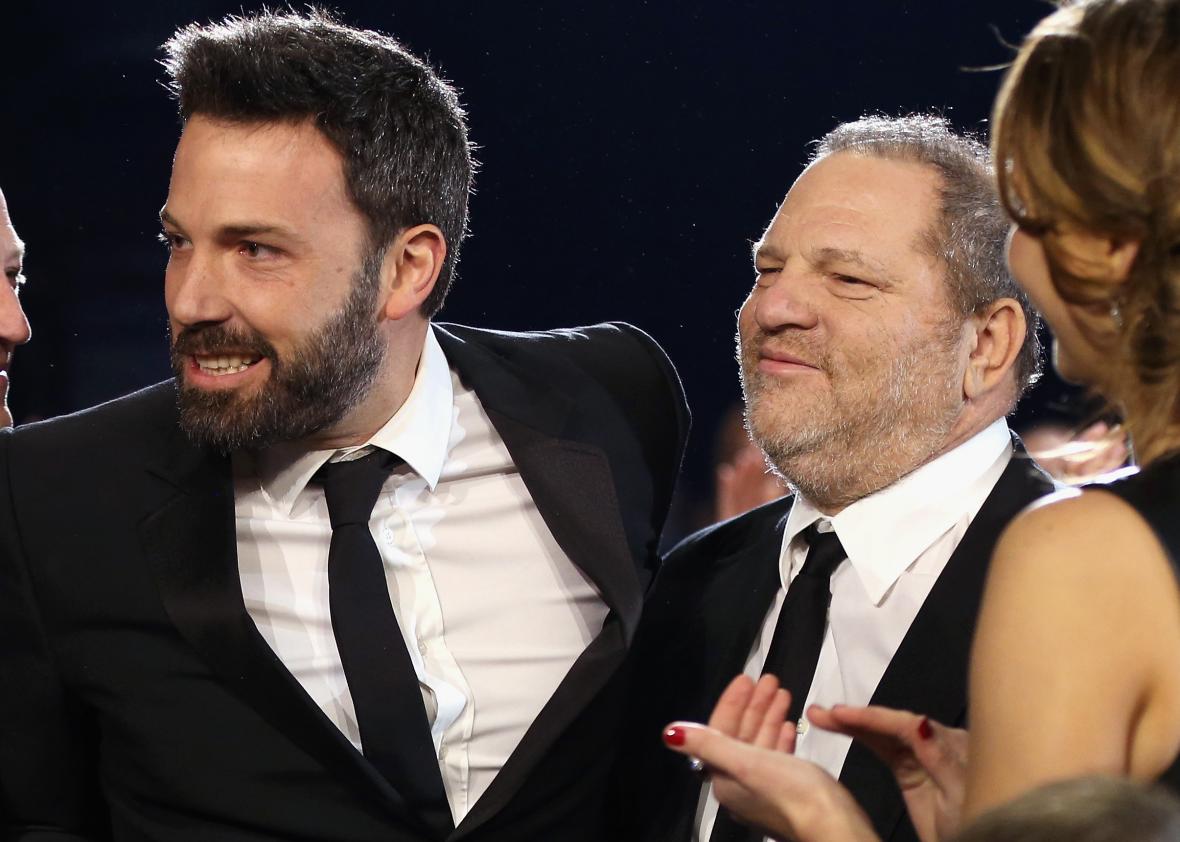 As the full extent of Harvey Weinstein's sexual misconduct unfolds, it's worth asking: What else does Hollywood have to hide? If the entertainment industry was willing to tolerate Weinstein's well-known secret for so many years, what other crimes—great and small—have also gone unpunished? The internet is on high alert for past instances of sexual harrassment, even if not on the scale of Weinstein's serial abuse. Or as this Jezebel post puts it, "Who's Next?"
Ben Affleck is, apparently, as he comes under increased scrutiny for his spotty record with women. Hours after Affleck denounced his longtime collaborator Harvey Weinstein, Twitter users began pointing to Affleck's own problematic history, including allegedly cheating on then-wife Jennifer Garner with their nanny and groping TRL host Hilarie Burton in 2003, something one user alleged "everyone forgot."
"I didn't forget," replied the former Total Request Live host.
"Girls," she added. "I'm so impressed with you brave ones. I had to laugh back then so I wouldn't cry. Sending love."
The video linked in the tweet is for the show's cold open, but the clip in question can be seen below.
The tweet (plus a Vulture story about the exchange) prompted Affleck to tweet again, this time apologizing for his own behavior and admitting he "acted inappropriately."
I acted inappropriately toward Ms. Burton and I sincerely apologize

— Ben Affleck (@BenAffleck) October 11, 2017
It's not the only example of Affleck being physically inappropriate with a female interviewer. In a 2004 interview with Montreal TV host Anne-Marie Losique, Affleck wraps his arms on Losique while talking incessantly about her breasts, suggesting she "get them titties out."
And while one can't blame a brother for his brother's crimes, it's worth noting that Affleck's younger brother Casey came under heated scrutiny for previous reports of sexual harassment in the lead up to the 2017 awards season. The younger Affleck had previously settled two sexual harassment lawsuits from women working on his 2010 documentary I'm Still Here, which many said should discount him from any fairytale comeback narrative. He still won the Academy Award. Close friend of the Afflecks Matt Damon has also been accused of attempting to quash a 2004 Weinstein story.

Rose McGowan—one of Weinstein's accusers and a longtime critic of Hollywood's misogynistic culture—also called Affleck out for his Weinstein repudiation, telling him to "fuck off."
She also implied Affleck is feigning ignorance, tweeting, " 'GODDAMNIT! I TOLD HIM TO STOP DOING THAT' you said that to my face. The press conf I was made to go to after assault. You lie."
@benaffleck "GODDAMNIT! I TOLD HIM TO STOP DOING THAT" you said that to my face. The press conf I was made to go to after assault. You lie.

— rose mcgowan (@rosemcgowan) October 10, 2017
In another post-Weinstein tweet, she addressed both Afflecks. "Ben Affleck Casey Affleck, how's your morning boys?"
Ben Affleck Casey Affleck, how's your morning boys?

— rose mcgowan (@rosemcgowan) October 9, 2017
And makeup artist Annamarie Tendler added to the chorus of women suggesting Affleck should be issuing some apologies of his own. "I would also love to get an apology from Ben Affleck who grabbed my ass at a Golden Globes party in 2014. ... Like most women in these situations I didn't say anything but I have thought a lot about what I'd say if I ever saw him again."

He walked by me, cupped my butt and pressed his finger into my crack.

— Annamarie Tendler (@amtendler) October 11, 2017
Like most women in these situations I didn't say anything but I have thought a lot about what I'd say if I ever saw him again.

— Annamarie Tendler (@amtendler) October 11, 2017