Listen to Early Drafts of Eight Hamilton Songs, With Lin-Manuel Miranda Playing Every Character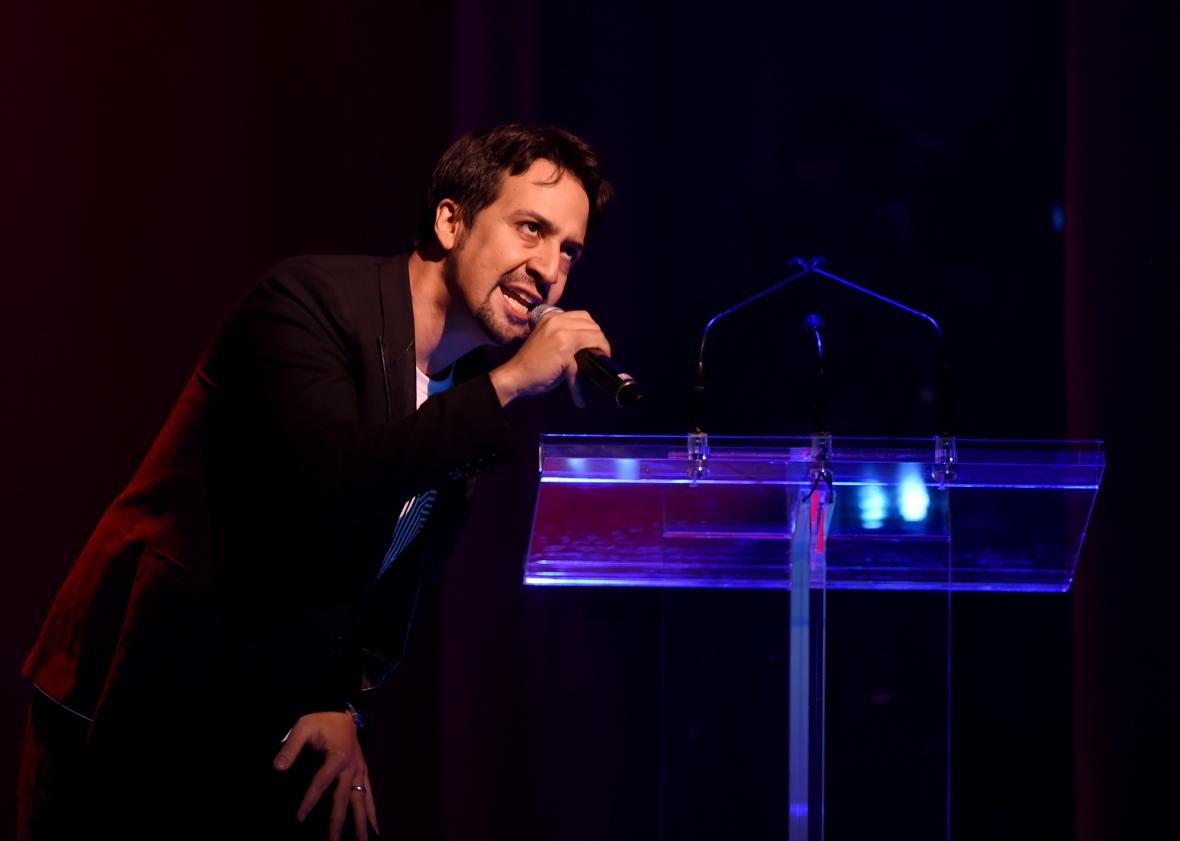 As an artist, Lin-Manuel Miranda is unusually transparent about his creative process, and he's shared unpolished demos of his songs with fans before. He's been doing it since before the Hamilton phenomenon made him a household name, back in his In the Heights days, and it's a tradition he's kept up with, with two early drafts from Hamilton on the Hamilton Mixtape: "Cabinet Battle #3," which was cut from the final musical completely, and "Valley Forge," which is so different from "Stay Alive," the track it would eventually become, that the two are essentially different songs.
But he's never released as many at once as he did on Friday, when he dropped a batch of eight "Hamildemos," rough cuts of songs from the musical, performed by Miranda, on Twitter. Two of these, "My Shot," and "Satisfied," are demos he had previously released, but there's still plenty to appreciate for ravenous Hamilton fans among the other six tracks.
Among the new demos is Miranda singing "Congratulations," a song that didn't ultimately make the final show—though Angelica Schuyler actress Renée Elise Goldsberry debuted it at a #Ham4Ham performance back in August, and it found its way onto The Hamilton Mixtape with a cover by Dessa. But for the most part, this new batch of demos features Miranda singing more familiar tunes. He battles himself as both Burr and Hamilton on "Your Obedient Servant," which includes extra lyrics about their feud, with Burr citing "a letter from Dr. Charles Cooper who was kind enough to give me his approval to reprint a letter that he sent in confidence" as the source of his grievance. Miranda acts as both the seductress and the seduced on "Say No to This" and barks orders and takes them on "Right Hand Man."
Listening to the tracks, it's as though writing, composing, and starring in Hamilton wasn't enough for Miranda—on the demos, he finally is the entire musical. At the very least, the demos should tide fans over until The Hamilton Mixtape, Vol. 2.