Trevor Noah Reviews ISIS's New Recruitment Song, Is Not Impressed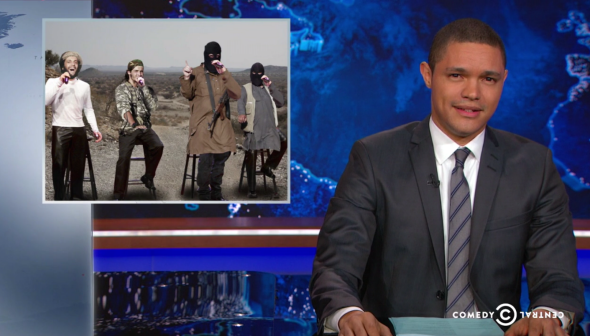 Trevor Noah has heard ISIS's new recruitment song, and he is not feeling it. The terrorist group released the track, which is in Mandarin, to recruit more fighters from Asia, but according to Noah it's a flop: "I don't know whether to wage jihad or wait for my masseuse to show up," he said on The Daily Show Monday night.
Perhaps worse than the song itself is the record label name: al-Hayat Media Center. "That's a weak-ass record label name if ever I've heard one," Noah said. "They could've at least gone with something cool like Jihad-Unit or 72 Virgin Records or Iraq-A-Fella. They had so many options!" Noah suggests that if ISIS really wants to get people on board, they should start by recruiting Adele.