Where Should I Start With Spoon?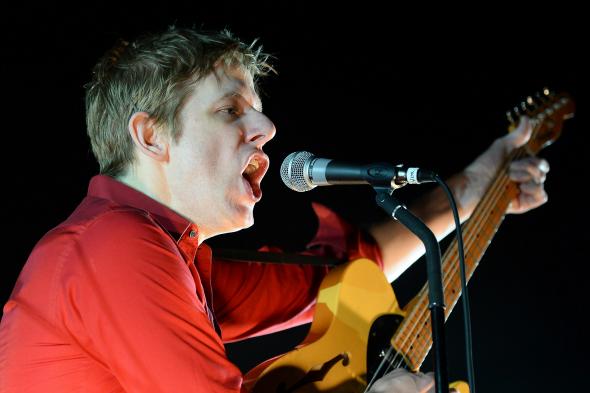 In this weekend's New York Times Magazine, I profile Spoon, the Austin-based rock band that's built a 20-year career out of songs that use the building blocks of pop music—AC/DC drums, Dr. Dre synths, the "Duke of Earl" groove—to create something idiosyncratic and unmistakably their own. Spoon's new album, They Want My Soul, comes out on Tuesday, and Brow Beat has already previewed a number of the excellent songs on the record, from the spacey ballad "Inside Out" to the summery "Do You." You can also sample the album's Joan Jett-esque opener, "Rent I Pay," as the band performed it on Jimmy Kimmel Live! last month, a gig that ended with an exhausting 90-minute mixing session as the band doggedly scrubbed the track clean of all the effects the show's engineer had added.
The band's music comes from the long-term aesthetic partnership between lead singer and songwriter Britt Daniel and drummer Jim Eno, in whose Austin studio the band rehearses and prepares most of their songs. Spoon almost fell apart after the major label Elektra dropped them in 1998, but found new vigor with the success of Daniel's bridge-burning single "The Agony of Laffitte," a harsh rebuke of Elektra A&R man Ron Laffitte, who'd promised them the moon and then quit the label.
The band then released five sharp, excellent albums on the independent label Merge Records (a story told very well in John Cook's oral history of Merge, Our Noise). The new album is on a new label, Loma Vista, but their songs are still great and complex, written and recorded with the admirable attention to detail that 90-minute mixing ordeal suggests. Here's where to start with one of America's best rock bands.
"The Agony of Laffitte" (1999)

"The Fitted Shirt" (2000)

"The Way We Get By" (2002)

"The Two Sides of Monsieur Valentine" (2005)

"I Turn My Camera On" (2005)

"Out Go the Lights" (2010)

"Nobody Gets Me But You" (2010)