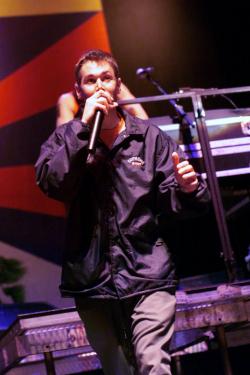 From impossibly dense works of hip-hop sampling to indelible party anthems, the Beastie Boys compiled, over the course of three decades, one of the more eclectic and impressive catalogs in recent popular music.
And among its most distinctive features was the scratchy rasp of Adam Yauch, a.k.a. MCA, who died today at 47.
In order to pay tribute to his musical legacy, we asked followers of Slate on Twitter to suggest the essential #MCAtracks. Within an hour, we had over 150 suggestions. Below, you will find some of our favorites, which we have also collected in a Spotify playlist.
From @soulblend: "'Bodhisattva Vow.' An absolute masterpiece done entirely by MCA."
From @jonathanbwarner: "When my wife and I were in the high plains for the first time two summers ago, all I could do was sing 'High Plains Drifter.'"
From our own @thehighsign: "Shadrach, Meshach, Abednego! (Yauch directed the video under his pseudonym, Nathaniel Hörnblowér)"
From @TomTweedSlater: "Definitely 'Pass the Mic.' Great MCA verse and he directed the video, amazing stuff."
From @ChrisDartCOTF: "'Johnny Ryall,' great song and so many samples it would cost $800,000 to make today."
From @AngryBroads: "'Live at P.J.'s.' I love that bass line. That song could go on forever and I would be happy."
From @sarcasymptote: "all of Paul's Boutique is genius, but 'Shake Your Rump' does it for me. More rhymes than 'Jamaica's got Mangos'?"
You will find the Spotify playlist below. We would love to get more suggestions for MCA tracks (and MCA rhymes) in the comments, or on Twitter. RIP, MCA.