Good Dirt Is Hard To Find
Chef Dan Barber on the secret to making food sustainable and delicious.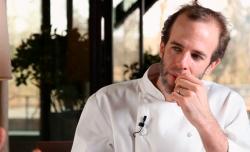 Many people opt for organic foods to avoid pesticides. Dan Barber says he has a different rationale for going organic: It tastes better.
The chef and restaurateur who has been extolling the virtues of sustainable food for years recently sat down at his Blue Hill at Stone Barns restaurant outside New York City with Slate's Jacob Weisberg to explain why he's a locavore and how pesticides ruin soil and ultimately the flavor of our foods.