Introducing "Conversations With Slate"
A video interview series hosted by Jacob Weisberg. First up: Jennifer Egan.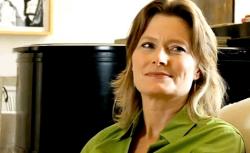 Imagine if you could sit down with culture shapers and innovators for thoughtful conversations that step outside the warp-speed churn of the Web. That's what we're aiming for with our new video interview series, "Conversations With Slate."

Slate Group Editor in Chief Jacob Weisberg is conducting a series of one-on-one interviews with influential people across a range of fields—business and technology, entertainment and the arts, the media and politics—with the goal of engaging his subjects in conversation that pivots off of current projects and tries to get at something more revealing about our culture or our world.
Jacob's first guest is Jennifer Egan, the Brooklyn-based novelist who won the 2011 Pulitzer Prize for A Visit From the Goon Squad. Egan sat down with Weisberg for a free-wheeling discussion of everything from her obsession with doppelgangers and pseudo-reality to how her journalistic work has influenced her five works of fiction.

Below is the first of three video segments from the interview:
Watch Part 2 of the interview:
Watch Part 3 of the interview:
Check back for more "Conversations With Slate."