The Real Reason Bill Simmons Got Suspended
The Sports Guy wanted to prove he can still speak truth to power. ESPN wanted to show who's really in charge.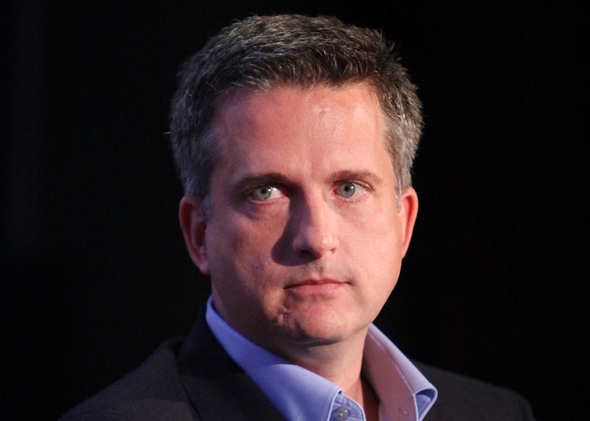 It's absurd that Simmons was suspended for backing up his colleagues' own reporting, albeit in a salty, come-at-me-bro, do-your-best, yeah-I-didn't-think-so kind of way. But to understand why Simmons and ESPN management acted the way they did, you need to grasp the psychology of the Sports Guy. In the ESPN oral history Those Guys Have All the Fun, Simmons says he first got the network's attention when he wrote a running diary for AOL in which he called the 2001 ESPY Awards a "TV holocaust." Thirteen years later, the guy who got his start flinging bombs at faraway Bristol is one of the faces of the company, honchoing his own prestige website, executive-producing a documentary series, and doing the sort of TV commentary that he once gleefully mocked.
No matter how far he burrows into the core of ESPN, however, Simmons will always see himself as an outsider. That's what this week's conflict came down to: a powerful man whose self-conception demands that he speak truth to power, and a massive corporation that wants him to know who's still in charge.
Since this relationship started 13 years ago with a running diary, I'm going to tell this week's tale in the same form. Here's my blow-by-blow account of the 53-minute, 50-second podcast that got Simmons suspended. (We managed to snag the full episode before ESPN removed it from the Web.)
0:15: Simmons reads an advertisement for Stamps.com, confirming that this is in fact a podcast.
1:10: A warning for sensitive ears: "The B.S. Report is a free-flowing conversation that occasionally touches on mature subjects."
Simmons and ESPN needed each other back in the early 2000s. When Simmons joined up with ESPN, the Boston Sports Guy got a huge platform and the broadcasting behemoth got a populist everydude with an unmatched talent for relating to his readers. The massive corporation and the iconoclastic columnist had to meet in the middle—a place where you could ask, without using any expletives of course, if Roger Clemens just might be the Antichrist.
But the conversation wasn't always as free-flowing as Simmons would've liked. Two years ago he told Bloomberg Businessweek that a 2001 story he wrote on then-Ravens coach Brian Billick was "mutilated" because the company thought it might want to hire Billick down the road. In 2008 Awful Announcing reported that ESPN wouldn't allow Simmons to have a porn star in his fantasy basketball league, and that all discussion of said porn star was excised from The B.S. Report podcast. That same year, ESPN nixed a conversation between Simmons and then presidential candidate Barack Obama, one in which they presumably would not have discussed pornography. Around that same time, he started a site called "Sports Guy Unplugged," using it as a repository for pre-ESPN columns in which he could write the phrase "whore lawyer" with impunity.
In Those Guys Have All the Fun, Simmons says he wasn't allowed to talk to Obama because "they had this whole edict in place that none of their talent was allowed to editorialize about the election." His suggested fix: "If they want to do this right, then designate your six, seven people who can talk about whatever they want."
Simmons eventually became one of those guys, or close to it. In 2011 he launched his own prestige website, Grantland, an expletive-friendly sandbox that he stocked with his favorite writers. A year later he interviewed President Obama for The B.S. Report. The conversation did not touch on mature subjects, but it was free-flowing.
1:29: Simmons introduces "Cousin Sal" Iacono, a friend from his days writing for Jimmy Kimmel's TV show. During the NFL season, Simmons invites Sal on his podcast to guess the Vegas betting lines, predicting how much the Saints will be favored on the road against the Cowboys. These episodes are occasionally funny, often profane, and entirely self-indulgent. Listen to Simmons discuss his gambling theories for just short of an hour, and you will have no doubt that ESPN lets this guy do whatever the hell he wants.
3:10: Kirk Cousins and Washington can score at any time, Simmons says, "unlike my Patriots." The Sports Guy's Boston fandom, as opposed to his outsider status, is something that he's never been at risk of losing. There is no conflict here: His unabashed rah-rah-ism is good for ESPN and good for Simmons, a marker of his resolute authenticity. Impartial, middle-of-the-road sportswriters sit behind glass at a press box. Simmons is a guy you can connect to, drink a beer with.
5:45: Still talking about the Patriots. "Gronk doesn't look like the same guy." Man, Boston sports fans are annoying.
11:48: "Does the hypocritical breast cancer awareness start this weekend or is that next weekend?" Simmons asks. "I can't wait for the NFL to care about women. That'll be great."
12:00: Simmons brings up the Goodell press conference, describing the commissioner as insincere, robotic, lukewarm, and lacking in humanity. He compares him to former Enron CEO Ken Lay. (Or as Simmons calls him, "Dick Lay.")
13:36: The first reference to Goodell "probably lying" is followed by a gleeful "Oh!" when Simmons learns you can bet on whether the commissioner is going to make it through the season.
14:15: Simmons praises the investigative piece in which ESPN's Don Van Natta Jr. and Kevin Van Valkenburg make the case that Goodell—in very carefully chosen words—has been lying about aspects of the NFL's Ray Rice investigation. Simmons' criticism of the commissioner, both in his columns and the podcast, is grounded in evidence acquired by the company's own reporters.
The Sports Guy's lips, though, are just a little bit looser when he's in front of a microphone. As Slate's David Haglund pointed out in his long feature on Delonte West, it was on his podcast that Simmons gave credence to the entirely unsubstantiated rumor that West slept with LeBron James' mother. "Let me interject one more second," Simmons said during his conversation with Chuck Klosterman, "because I'm not positive we're allowed to talk about this although I feel like we should." Simmons then proceeds to follow that impulse.
16:11: Four minutes in to the Goodell conversation, Simmons has worked himself into a full lather. He calls him a liar three more times. He adds that for Goodell to "pretend" he didn't know about the Rice elevator video is "such fucking bullshit."
18:37: "I think I'm getting cranky because I'm turning 45 this week," Simmons says. "I don't like liars. Really, I think—just people who, when you know they're lying, and they're lying anyway. Those are the worst people. We know you're lying!"
19:17: "I really hope somebody calls me or emails me and says I'm in trouble for anything I say about Roger Goodell," he says. "Because if one person says that to me, I'm going public. You leave me alone. The commissioner's a liar and I get to talk about that on my podcast. Thank you. … Please call me and say I'm in trouble. I dare you."
I wonder if, back when Simmons was just another writer (albeit a very popular one), someone would've saved the Sports Guy from himself and told him to edit all that bluster out.
But the truth is that it's never been easy to tell Simmons what to do. In Those Guys Have All the Fun, ESPN.com editor Jay Lovinger talks at length about Simmons' incorrigibility. "You don't really edit him," Lovinger says. "He turns in his thing, you suggest stuff, he writes 'Stet all changes,' on the copy, you fight with him over things, he goes to [John] Walsh or [John] Skipper to complain, and you say to yourself, 'I don't need this grief.' His goal is to get you to the point where it's such a pain in the neck that you just put the stuff through—unless there's something you're going to get sued over."
In his SI column, Deitsch wrote that there's resentment at ESPN over Simmons' buddy-buddy relationship with Skipper, the company's president and co-chairman. According to Deitsch's sources inside the company, "ESPN management needed to make a stand on Simmons as a message to all its employees that even the most prominent front-facing employee must follow the rules and not stain the reputation of his editorial operation."
Simmons had been dinged by management before, getting suspended from Twitter for insulting an ESPN Radio affiliate and saying he was embarrassed by the Skip Bayless troll-a-thon First Take. (Hey, at least he didn't call it a "TV holocaust.") But this was different. When Simmons said "I dare you," he was talking like a made man—someone who, on account of his popularity, reputation, and well-placed allies, could break the rules that ordinary people have to follow. This was the recipe for the dumbest ESPN suspension since that guy was benched for 30 days for saying "chink in the armor": a star player who thinks he's untouchable, and corporate honchos who'd rather overreact than have the lunatics think they're running the asylum.
The problem for ESPN is that Simmons said what everyone in America wants to hear right now. The only way Roger Goodell could be less popular is if video emerged of him burning the Ray Rice video, cackling maniacally, and whispering, "I'll never tell." Simmons said what he believed, with no bullshit and no filter. This was the Sports Guy at his best: righteous, angry, and probably correct. (On Thursday the AP reported that a law enforcement official sent the Rice video to the NFL's head of security back in April.)
What the three-week suspension looks like, then, is an effort to silence a loud voice of dissent to appease ESPN's most important business partner. It's true that ESPN likely felt some pressure to please the NFL, given that the network has invested billions in a league that's headed up by a guy Simmons won't stop calling a liar. But one of ESPN's biggest names, Keith Olbermann, has said loudly, repeatedly, and not all that politely that Goodell needs to go—that he is "an enabler of men who beat women." What Olbermann has not done is dared his paymasters to shut him up.
Would Simmons have avoided a suspension if he did nothing more than call Goodell a liar? I think it's possible, given that he didn't go all that much further than he did in a column two weeks ago. "HOW THE HELL DOES ROGER GOODELL STILL HAVE A JOB?" he asked. His answer: "I can't f-​-​-​ing figure it out."
20:10: Simmons and Cousin Sal guess the line for the Green Bay-Chicago game. Simmons says Bears by three. The correct answer: Bears by one.
33:11: In a bizarre comedy bit, Cousin Sal impersonates Simmons, whom he imagines rhapsodizing about his "boyfriend Russell Hustle and Bustle Man Muscle Wilson." It gets weirder. Sal, as Simmons, describes waiting for Wilson to propose to him, only for the Seattle quarterback to wander off with Honey Boo Boo's mother. The punchline: "I'm off to leak new photos of Russell's man muscle to iCloud and Pinterest."
At press time, Cousin Sal had not been suspended by ESPN.
46:44: Simmons asks Sal if he should go to the Patriots' game in Kansas City on Monday night. "Oh, you could go?" Sal says, excited about the possibility. Simmons' response: "I can kind of go to whatever game I want."
The Sports Guy has come a long way since 2001. Simmons crashed through Bristol's gates, and he now has a bigger following than any sportswriter in the country. ESPN gave him his own site, his own film series, and his own TV projects. He can go wherever he wants, for any reason he wants, to watch whatever game he wants. But if he wants to be able to say whatever he wants, in whatever medium he wants, then he's going to have to start his own company. If he'd like to ponder his next move at the Pats game in Kansas City, he'll have to buy a ticket, just like a regular sports fan.