When Sprinters Wore Baggy Shorts
A look back at Olympic sprinters' uniforms before they became tight and shiny.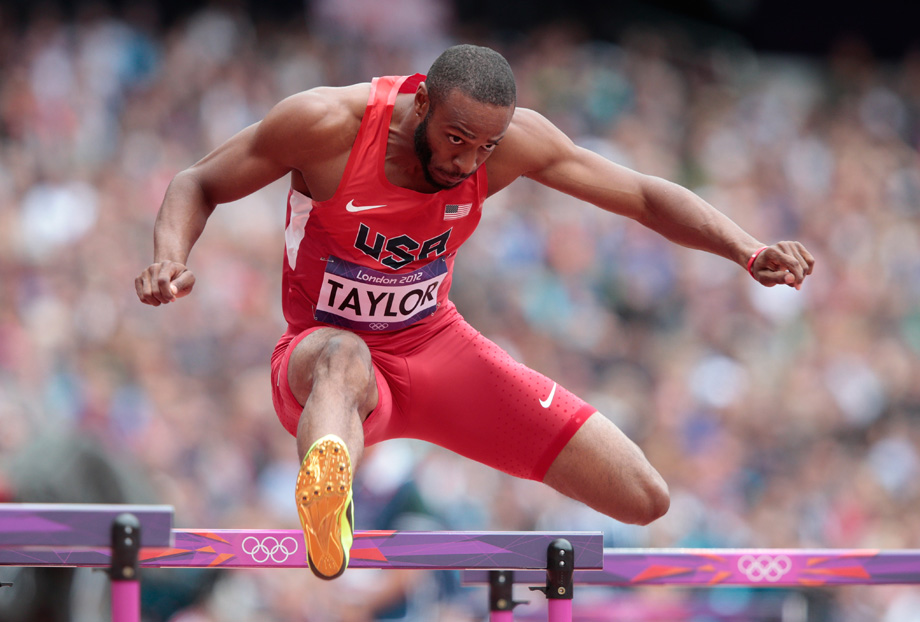 American sprinters at the London Games will have the option of wearing new uniforms from Nike that the sportswear company claims are the "swiftest track apparel to date … [and] also the most sustainable." The tracksuits, which include material from 13 recycled water bottles apiece, incorporate patterned patches on the fastest-moving parts of the body (note the dots on Angelo Taylor above). They are also covered in golf-ball-like dimples "to help reduce the aerodynamic drag of the athlete." Nike claims, with great precision, that the dimpled uniforms shave up to 0.023 seconds off a 100-meter sprint time as compared to the company's previous gear.

Although not all runners will embrace this ultra-high-tech model, opting instead for other Nike uniform variations, everyone on the track is sure to wear something clingy and aerodynamic. Even just a couple decades ago that was not the case. A look back through the history of Olympic sprinter attire reveals radical changes.
Athens 1896: Shorts were consistently long, while sleeve lengths varied among competitors in the 100-meter sprint.
St. Louis 1904: Yamasani, a Zulu tribesman, runs along the track in a collared shirt, heavy shorts, and boots. Although he was a marathon runner, not a sprinter, this sort of bulky track outfit was typical at the time. One of the first African athletes to participate in the modern Olympic Games, he came in 12th in the marathon, despite the wind resistance created by his hat. (It's worth noting that those 1904 Games trafficked in some fairly appalling ideas about race.)
St. Louis 1904: There were few requirements regarding athletic uniforms in the 1904 Olympics. A Cuban postman named Felix Carvajal became a legend when he arrived to the marathon late in his regular clothes—long trousers, a heavy shirt with long sleeves, and bulky walking shoes. The officials elected to postpone the start of the race while another athlete helped him cut the sleeves off his shirt and the legs off his pants. He came in fourth.
Stockholm 1912: Eight years later, there was far more regularity to the sprinters' attire, as you can see here. The official 1912 Olympic Report outlined that "each competitor shall wear a jersey with short sleeves and drawers to the knees, and shall also have on back and front during competition a distinctive number corresponding to the number in the programme assigned to him by ballot."

Berlin 1936: By the early 20th century, Olympic sprinters were putting careful thought into what they put on their feet. The cleats worn by the gold-medal-winning Jesse Owens were made by a German company known as the Dassler Brothers Shoe Factory. Owens' four gold medals in Berlin made his shoes the envy of runners across the world, helping the brothers to launch two new shoe companies after they parted ways: Adidas and Puma.
London 1948: The Netherlands' Fanny Blankers-Koen (right), aka the "flying housewife," managed to win four gold medals at the 1948 Olympics in London despite her puffy shorts. Male sprinters at that time had a more streamlined look. Harrison Dillard, left, won gold in the 100-meter dash and the 4-by-100-meter relay in 1948 in this simple white uniform.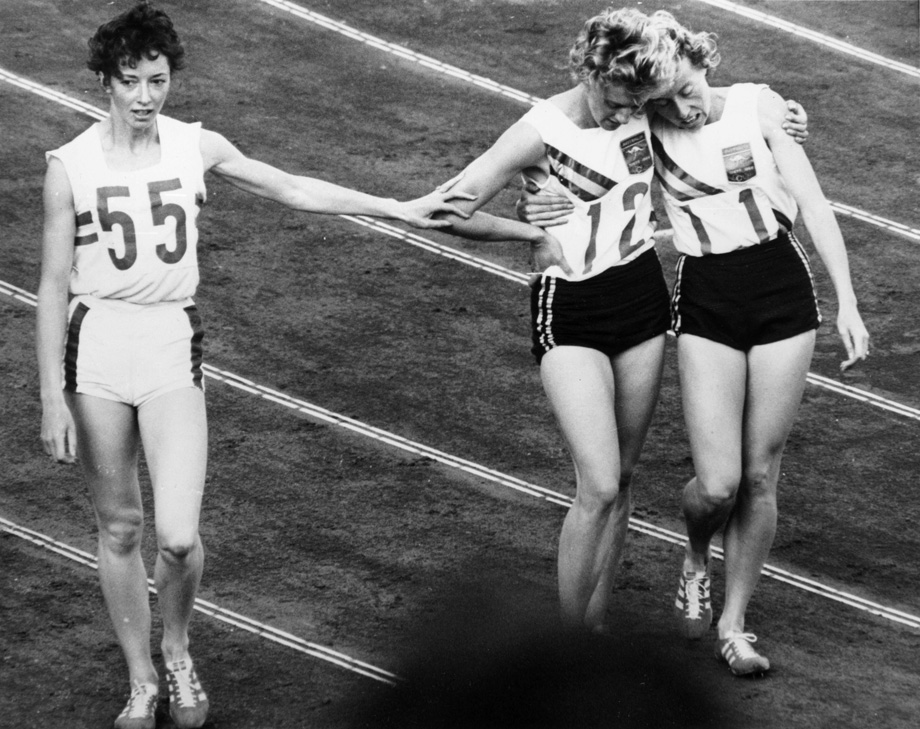 Tokyo 1964: Over the years, shoes got lighter and the clothing tighter. British sprinter Ann Packer, at left above, helped popularize Adidas' novel ultra-light spikes. Made from kangaroo leather and weighing just 80 grams (about three ounces), the shoes launched her to silver in the women's 400 meters. Inspired by her success, she made a last-minute decision to give the 800-meter event a chance. She broke the world record.
Mexico City 1968: Above, Lee Evans crosses the finish line to win the men's 4-by-400-meter relay for the United States. Despite wearing baggy shorts, Evans ran the 400 meters in 43.86 seconds, a record that stood for 20 years.*

Munich 1972: In the 1970s, synthetic materials began to make their way into running uniforms and the differences between attire for short- and long-distance runners began to grow. With an eye on aerodynamics, sprinters opted for closer-fitting speed suits while marathoners focused on light material that would not get weighed down by mile after mile of sweat.
Moscow 1980: By 1980, tiny shorts were a common sight on the Olympic track. Here, Marita Koch of East Germany carries the baton during the 4-by-400-meter relay, revealing much more leg than her Olympic predecessors.
Los Angeles 1984: The 1984 U.S. Olympic uniforms in were designed with the consultation of NASA scientist Lawrence Kuznetz. Applying technology used in space suits for American astronauts, Kuznetz and Kappa Sport created a double-knit, aluminum-coated fabric aimed at deflecting the sun's rays and pulling perspiration from the body. ''You feel good in them,'' U.S. sprinter Ray Omstead told UPI before the games. ''They make you feel cooler. They're not like other uniforms, not like cotton." Above, Greg Foster of the United States clears the hurdles on his way to a silver medal in one of these space-inspired uniforms.
Seoul 1988: In the late '80s, shorts length varied among sprinters. Canadian sprinter Ben Johnson (second from left) won the 100-meter final in a world-record time of 9.79 seconds while wearing some of the longer, airier shorts in the competition. (Three days after his victory, Johnson was disqualified for doping.)
Seoul 1988: Roger Kingdom became one of the first sprinters to show off a hooded tracksuit at the Olympics. Evidently the wind-resistant headgear did not hurt him, as he won gold in the 110-meter hurdles.
Seoul 1988: The biggest uniform story of the Summer Games centered around Florence Griffith Joyner. In the Olympic Trials, Flo Jo wore an iconic brightly colored one-legged body suit (right), a get-up that was not allowed in Seoul. She fared just fine in the standard team attire, however, winning three golds and a silver. At left, she celebrates after grabbing gold in the 100-meter dash.
Barcelona 1992: By the early '90s, sprinters had opted for tight, synthetic uniforms. Above, the United State's Michael Johnson (right) and Sergio de Menezes of Brazil (left) compete in the 200 meters.
Atlanta 1996: By 1996, midriffs were a frequent sight on the Olympic track. Above, Deon Hemmings of Jamaica raises her arms as she crosses the finish line to win the 400-meter hurdles.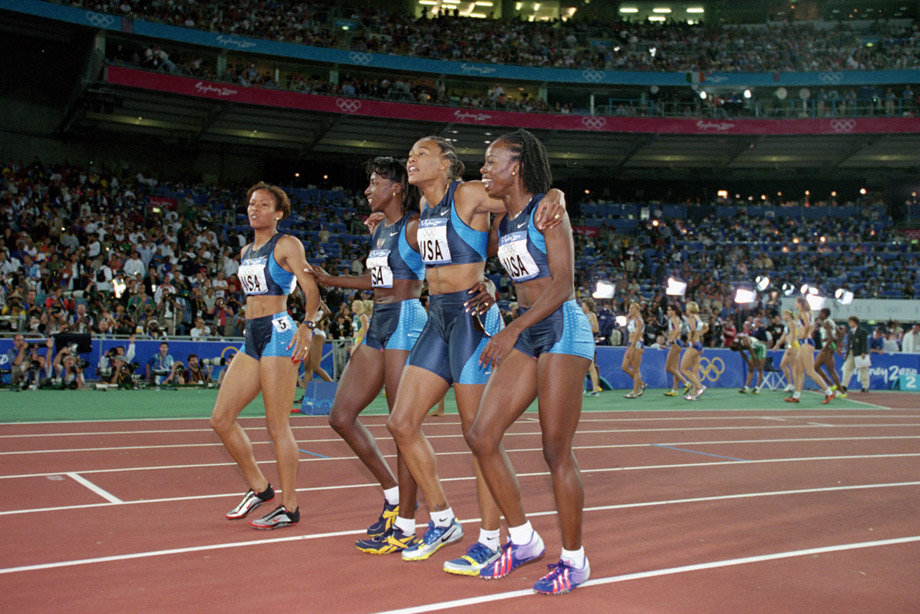 Sydney 2000: Teammates LaTasha Colander, Jearl Miles Clark, Marion Jones, and Monique Hennagan (left to right) celebrate winning the women's 4-by-400-meter relay in low-friction Lycra shorts and tops. (These medals were later stripped after Jones admitted to using performance-enhancing drugs.) They were also aided by ultra-lightweight Nike running spikes, molded around their feet, which could be worn only once.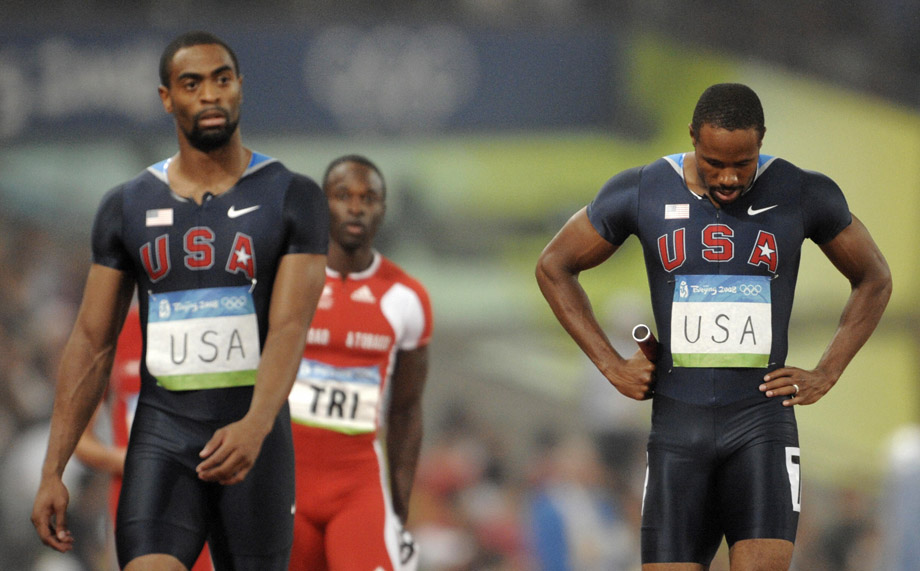 Beijing 2008: By the 2008 Olympics in Beijing, computer modeling had been widely incorporated into athletic uniform design, with aerodynamic tweaks aimed at reducing wind resistance. The idea that technology could—and should—shave time off sprinters' races was becoming standardized.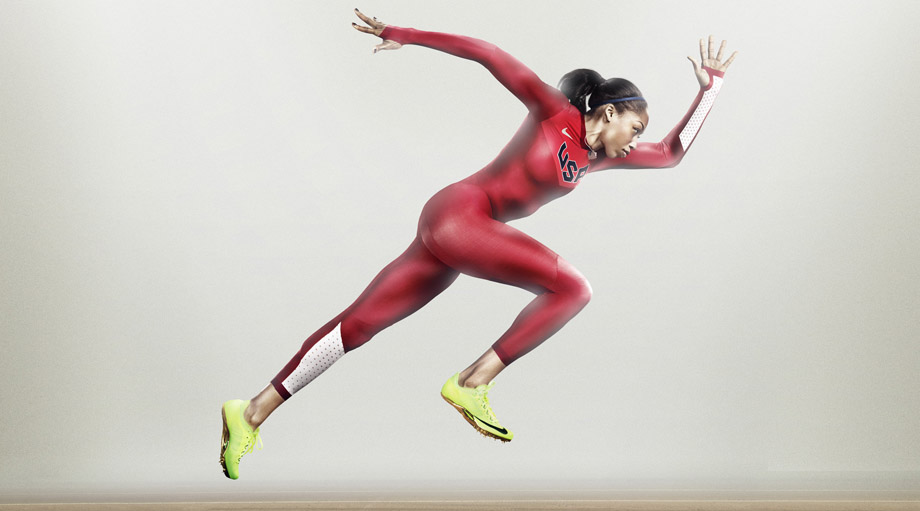 London 2012: What would those early athletes have thought if they had seen the uniforms sprinters wear today?
Correction, Aug. 5, 2012: This article originally and incorrectly stated that the 1968 Games in Mexico City was the last Olympics to feature cinder tracks. The last Olympic Games with a cinder track was in Tokyo in 1964. This article also incorrectly stated that a 1968 photo depicted Lee Evans running in the 4-by-100 relay. Evans was running the 4-by-400 relay. (Return.)