How Badly Would Usain Bolt Destroy the Best Sprinter of 1896?
The champs of bygone Olympics take on today's best sprinters, jumpers, throwers, and swimmers—a Slate interactive.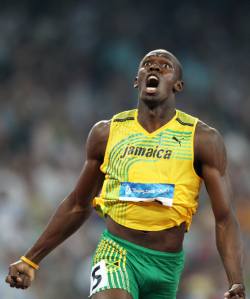 Compared with the athletes in the first modern Olympics, today's gold medalists can run faster, swim stronger, and jump and throw farther. But how slow and weak were the champions of yore compared with the best of the 21st century? In which events could the cream of the crop from bygone eras keep up against their modern counterparts?
In the visualizations below, we've pitted the likes of Usain Bolt and Shelly-Ann Fraser against winners from olden times. The eight contestants in each of our four events—the 100-meter dash, swimming's 100-meter freestyle, the long jump, and the discus—were selected with an eye towards bringing together athletes from all different Olympic eras. Chariots of Fire's Harold Abrahams—the 100-meter gold medalist in 1924—is at the starting line, as is the late-20th-century great Carl Lewis. We've also decided to open our doors to cheaters: Marion Jones (who was stripped of her medals from the 2000 Games), Barbara Krause (who was given performance enhancers by her East German coaches), and their doping brethren are welcome here.

Click "Start" to see how these gold-medal winners compare when competing side by side. Let the simulated games begin!
Men's 100-meter dash
Start!
Again!
Harold Abrahams (Great Britain), 1924
Valery Borzov (USSR), 1972
Donovan Bailey (Canada), 1996
Justin Gatlin (USA), 2004
Usain Bolt (Jamaica), 2008
Women's 100-meter dash
Start!
Again!
Elizabeth Robinson (USA), 1928
Fanny Blankers-Koen (Netherlands), 1948
Wilma Rudolph (USA), 1960
Renate Stecher (East Germany), 1972
Evelyn Ashford (USA), 1984
Florence Griffith-Joyner (USA), 1988
Shelly-ann Fraser (Jamaica), 2008
Men's 100-meter freestyle
Start!
Again!
Alfred Hajos (Hungary), 1896
Charles Daniels (USA), 1906
John Weissmuller (USA), 1924
Alexander Popov (Unified Team), 1992
Pieter van den Hoogenband (Netherlands), 2004
Alain Bernard (France), 2008
Women's 100-meter freestyle
Start!
Again!
Fanny Durack (Australia), 1912
Ethelda Bleibtrey (USA), 1920
Hendrika Mastenbroek (Netherlands), 1936
Dawn Fraser (Australia), 1964
Barbara Krause (East Germany), 1980
Zhuang Yong (China), 1992
Jodie Henry (Australia), 2004
Britta Steffen (Germany), 2008
Robert Garrett (USA), 1896
Rudolf Bauer (Hungary), 1900
Martin Sheridan (USA), 1908
Clarence Houser (USA), 1928
Jurgen Schult (East Germany), 1988
Virgilijus Alekna (Lithuania), 2004
Gerd Kanter (Estonia), 2008
Women's discus
Start!
Again!
Helena Konopacka (Poland), 1928
Lillian Copeland (USA), 1932
Gisela Mauermayer (Germany), 1936
Lia Manoliu (Romania), 1968
Faina Melnik (USSR), 1972
Martina Hellmann (East Germany), 1988
Ellina Zvereva (Belarus), 2000
Stephanie Brown Trafton (USA), 2008
Men's long jump
Start!
Again!
Alvin Kraenzlein (USA), 1900
William Petterssen (Sweden), 1920
Dwight Phillips (USA), 2004
Irving Saladino (Panama), 2008
Women's long jump
Start!
Again!
Olga Gyarmati (Hungary), 1948
Yvette Williams (New Zealand), 1952
Viorica Viscopoleanu (Romania), 1968
Tatyana Kolpakova (USSR), 1980
Jackie Joyner-Kersee (USA), 1988
Heike Drechsler (Germany), 1992
Chioma Ajunwa (Nigeria), 1996
Maurren Higa Maggi (Brazil), 2008