Saying No to Social Networking
Is it possible to opt out without being labeled a weirdo?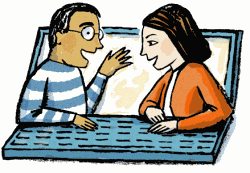 This week, Slate's tech columnist Farhad Manjoo and Dear Prudence advice columnist Emily Yoffe debate the question: Does opting out of any and all social networks make you seem "suspicious"?
What's your opinion about this week's manners dilemma?
You can play any episode of Manners for the Digital Age using the player below:
Podcast produced by Mike Vuolo.