Hang Up and Listen: The Frisbee Fever Edition
Slate's sports podcast on the NHL playoffs, Bobby Petrino's firing, the end of ESPN.com's Page 2, and professional Ultimate Frisbee.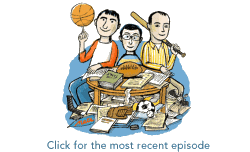 Listen to "Hang Up and Listen" with Tommy Craggs, Josh Levin, and Mike Pesca by clicking the arrow on the audio player below:
In this week's episode of Slate's sports podcast Hang Up and Listen, Josh Levin, Mike Pesca, and guest panelist Tommy Craggs of Deadspin are joined by Puck Daddy's Greg Wyshynski to talk about the violence in the NHL playoffs and the surprising 3-0 deficits faced by the Pittsburgh Penguins and the Vancouver Canucks. They also discuss Bobby Petrino's sordid dealings and subsequent firing as the football coach at Arkansas and the last days of ESPN.com's Page 2. Finally, Daniel Lametti comes on the show to assess the debut of the American Ultimate Disc League.
Here are links to some of the articles and other items mentioned on the show:
Team Fatsis' results from the 2012 National School Scrabble Championship.
Greg Wyshynski's hockey podcast, Marek vs. Wyshynski.
The Flyers beat the Penguins 8-4 to go up 3-0 in their first-round series.
The Senators' Matt Carkner was suspended for just one game for punching a Rangers player while he was flat on the ice.
Shea Weber's head slam of Henrik Zetterberg spawned the "Webering" meme.
Brendan Shanahan's video reviews of the NHL's playoff carnage.
Sidney Crosby on the Flyers: "I don't like any guy on their team."
Mike Milbury apologized for calling Crosby a "punk."
Bobby Petrino was fired as Arkansas' football coach after a motorcycle crash revealed he was having an affair with an athletic department official.
Deadspin's coverage of "Ozark Chappaquiddick."
Bobby Petrino's text messages, including the question, "Can they get content off my text."
The text messages of ex-Arkansas coach Houston Nutt were also revealed in a public records request.
Tommy's story on the emails received by Auburn PR during the Cam Newton scandal.
In answering ESPN.com's SEC coaches questionnaire, Petrino did not reveal his favorite music or his favorite restaurant.
Pat Forde's timeline of Petrino's less-than-honorable rides on the coaching carousel.
Mike Philbrick, Kevin Jackson, and Jim Caple remember their days at ESPN.com's Page 2.
The first Page 2, from Nov. 6, 2000.
Hunter S. Thompson's Page 2 column on Bush v. Gore, Ralph Wiley's column on Rick Pitino and the Derby Classic, and David Halberstam's column on Barry Bonds, "the Great Narcissist."
Tommy's nominee for the worst piece of sports journalism ever written: Lynn Hoppes on pizza.
Page 2 has been re-branded as Playbook.
Daniel Lametti's Slate article on the debut of the American Ultimate Disc League.
The AUDL's website.
Brodie Smith's YouTube trick shots.
Hang Up and Listen's weekly hucks:
Podcast production and edit by Mike Vuolo.