The "Big Gold Doors" Bonus Segment
John Dickerson, Julia Ioffe, and David Plotz discuss Donald Trump's White House ambitions and the role of ex-presidents.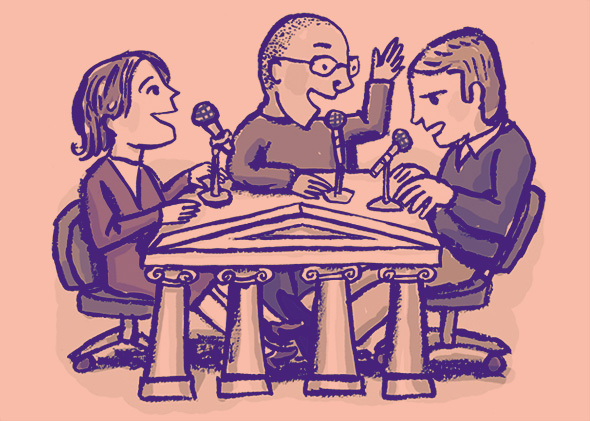 Donald Trump is the billion-dollar candidate who doesn't need to fundraise. So, does he actually want the presidency? In this week's Political Gabfest Slate Plus bonus segment, John Dickerson, Julia Ioffe, and David Plotz discuss the candidate's unique trail to the White House and how he could potentially redecorate the Oval Office—Trump-style.
The Gabfesters also discuss the changing role of American ex-presidents. From Eisenhower to Clinton, what does it take to keep a former commander-in-chief in the public eye? Tune in for more.
Here's what the other podcasts discussed in their Slate Plus bonus segments from the past week:
On the Culture Gabfest, hosts Willa Paskin, Dana Stevens, and Seth Stevenson recall their favorite sketches from Comedy Central's hit show Key & Peele in honor of its final episode.
On Hang Up and Listen, hosts Josh Levin, Stefan Fatsis, and Dan Steinberg of the Washington Post discuss the challenges columnists face when writing online content compared with print material.
On Mom and Dad Are Fighting, hosts Allison Benedikt and Dan Kois ask The Gist's senior producer Andrea Silenzi to share expert advice about what it was like to be the new kid in school.