The Culture Gabfest "Steak All the Way Through" Edition
Slate's podcast about Paula Deen and celebrity apologies, the new CBS series Under the Dome, and the decline of the humanities.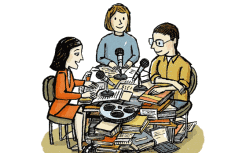 Listen to Culture Gabfest No. 249 with Stephen Metcalf, Dana Stevens, and June Thomas with the audio player below.
Culturefest is on the radio! "Gabfest Radio" combines Slate's Culture and Political Gabfests in one show—listen on Saturdays at 7 a.m. and Sundays at 6 p.m. on WNYC's AM820.
On this week's episode, our critics discuss the Paula Deen scandal and celebrity apologies in general. Do celebrities' apologies—or nonapologies—even begin to help them atone for awful behavior? Then the gabbers take a look at the new CBS series Under the Dome, based on the Stephen King novel of the same name, in which a mysterious, impenetrable dome surrounds and holds captive an entire small town. Finally, the crew considers the decline of the humanities major: Why is it happening, does it matter, and what can be done about it?
Here are links to some of the things we discussed this week:
June: The ridiculously addictive smartphone game "Candy Crush."
Outro: Beach Fossils, "Clash the Truth"
You can email us at culturefest@slate.com.

This podcast was produced by Julia Furlan. Our intern is Sam McDougle.