The Culture Gabfest: Don't Look Down Edition
Slate's podcast about Sight & Sound's list of top films, the ABC Family series Bunheads, and Seinfeld's Web series Comedians in Cars Getting Coffee.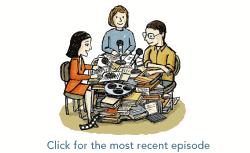 Listen to Culture Gabfest No. 203 with Dana Stevens, June Thomas, and Julia Turner by clicking the arrow on the audio player below:

On this week's Culture Gabfest, the Gabfesters are joined by Slate culture critic June Thomas. They first ponder Sight & Sound's "Greatest Films of All Time" list, which has been issued once a decade since 1952, and wonder how such a venerable entity holds up in today's web-based, list-crazed era. The Gabfesters then discuss Bunheads, the new multigenerational show from Gilmore Girls creator Amy Sherman-Palladino, its witty dialogue and its delightful (but sometimes irritating) affectations. Finally, the critics discuss Jerry Seinfeld's new Web series Comedians in Cars Getting Coffee and whether glossy production values, a vintage car collection and capitalizing on the popularity of the "comedians chatting with each other" format is a winning combination.
Here are some links to the things we discussed this week:
June's picks: Friday Night Comedy from BBC's Radio 4, particularly the News Quiz and Now Show episodes that have aired every other day during the London 2012 Olympics and use the games as the basis for live topical comedy. And the best stationery store in North America, Papeterie Nota Bene in Montréal.
Dana's pick: Lauren Child's Charlie and Lola, the books as well as the animated series.

Julia's pick: Unique brand Pretzel Shells, hollow rods of pretzel with the inside blah of the pretzel removed. All crunch, no filling!
You can email us at culturefest@slate.com.

This podcast was produced by Dan Pashman. Our intern is Sally Tamarkin.