Your State on Welfare
Where they spend when they're not spending on cash assistance.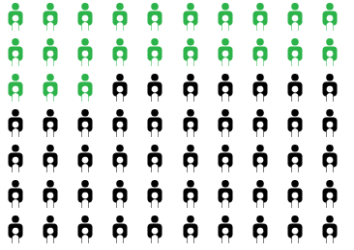 In the two decades since welfare reform, the number of poor families receiving cash welfare has plummeted by more than half. In 2014, just 23 out of every 100 poor families received cash welfare. Compare that with 1996, when 68 of every 100 poor families received cash welfare. So how do states spend their welfare dollars? You can find state-by-state data here, or scan the charts below to see how Marketplace crunched the numbers.
In the summer of 1996, Congress passed sweeping changes to the cash welfare program, which President Bill Clinton signed into law. The program had been in place for 61 years and had a simple structure: If you were poor and had children, you were guaranteed a welfare check. The new program, called Temporary Assistance to Needy Families, operated differently. The federal government set a flat amount to distribute to states each year from a $16.5 billion allotment. It became a block grant. States had great flexibility in how to spend their portions, with an emphasis on getting families off welfare and into jobs. It also created restrictions and requirements on the distribution of cash welfare. The law had four aims: support families with cash welfare, like the old program; get welfare recipients into jobs; reduce out-of-wedlock pregnancy; and encourage marriage.
The number of families receiving cash aid nationally has been significantly reduced since welfare reform, despite the fact that there has been an increase in the number of families in poverty. Unlike the old welfare system, TANF is state-run, and each state has spending discretion on a variety of welfare-related activities, as long as they fall under a set of federal guidelines. For example, Alaska spends 91 percent of its TANF dollars on the central goals of welfare reform: cash assistance, promoting work, and providing child care. South Carolina, on the other hand, only spends 16 percent on these core goals of welfare reform and nearly 77 percent in a minimally defined "other" category.