How Many People Around You Receive Food Stamps?
Slate's interactive tool for finding local SNAP data.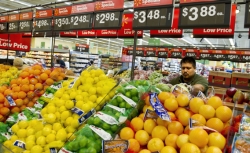 Since the turn of the millennium, participation in the food stamp program, known officially as the Supplemental Nutrition Assistance Program, has more than doubled to 15 percent of all U.S. residents in January. In some parts of the country, as few as 1 in 20 people receive food stamps. In others, the figure is more than 1 in 3. Low-income households that meet SNAP eligibility requirements receive a payment card that can only be used to buy government-approved essential foods.
Under President Obama's watch, the value of the benefits distributed by the program each year has more than doubled as more people have fallen below the poverty line and more households have joined the program. Obama has expanded eligibility under the theory that it helps the economy, which led Newt Gingrich to dub him the "food stamp president" early in the 2012 election season. Due to the high unemployment rate, the Obama administration has also waived a 1996 job requirement—a rule that made finding a job or enrolling in job training a prerequisite for receiving SNAP benefits—for 46 states. Republican leaders are trying to reinstate the requirement to counteract the program's escalating cost.
To find out how many people participate in the program in your area and how that number has changed since 2000, enter your ZIP code, city, or county and state in the widget below.
How many people around me receive food stamps?
Go
change location
The data for this county may not include major cities within it. To select those cities themselves, click them on the map below.
↑0% of pop. on food stamps
50%↑
000 people are in the Supplemental Nutrition Assistance Program in your county.
Tweet | Latest data from
About percent of people in your county are in the program.
Tweet | Latest data from
That proportion has percent since 2000.
Tweet
The participants received $ in benefits.
That's $ per person per year.
Or $ per person per month.
Tweet | Latest data from 2010
Source: SNAP time series data from the USDA Economic Research Service