The Chen Guangbiao Business-Card Generator
Now you can have a card fit for a Chinese billionaire.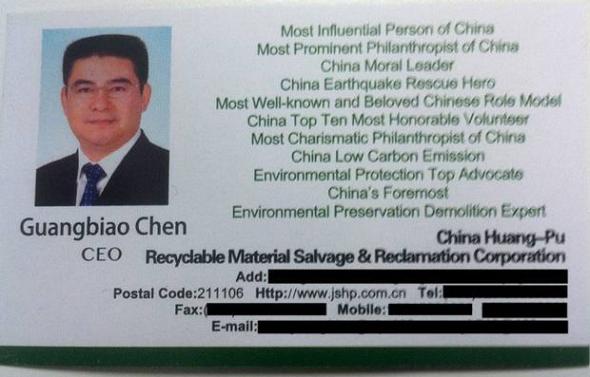 Chen Guangbiao isn't just some tycoon who wants to buy the New York Times—he's also China's "Most Influential Person," "Foremost Environmental Preservation Demolition Expert," and "Most Charismatic Philanthropist," according to his spectacularly detailed business card, which circulated the Web on Wednesday.
Well, Mr. Modest may be rich and multitalented, but he's not the only person with 10 exemplary qualities that can be itemized and distributed in convenient pocket-sized form. With our Chen Guangbiao Business-Card Generator, now you can share your achievements and accolades with the likes of Chen and his fellow "Moral Leaders" and "Earthquake Rescue Heroes." Just type in your name, title, company, and city, then use your new business card to purchase the newspaper of your choice.
Get Your Chen Guangbiao Business Card
Name:
Title:
Company:
City:
Do It!
Your unique Chen Guangbiao Business Card is:
Edit Your Info
Get Share Link