We Were Doing It Wrong: The Very First Political Gabfest
Watch Emily, John, and David review their inaugural Gabfest from 2005.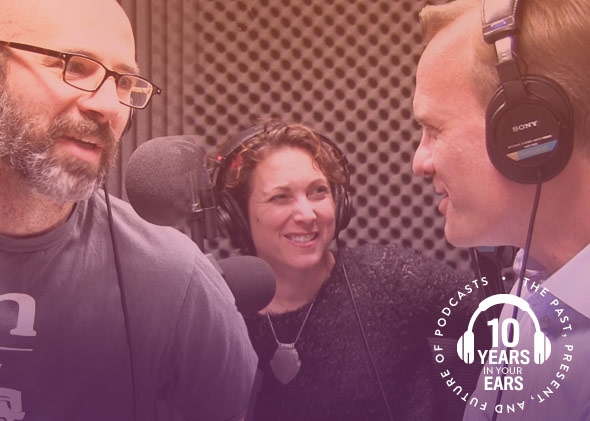 In celebration of Slate Plus' first anniversary, we're republishing a selection of pieces from the past year, including this article, which was originally published on Dec. 18, 2014.
In a conference room on Dec. 2, 2005, John Dickerson, Emily Bazelon, and David Plotz recorded their very first Political Gabfest together. As they recall, they may have huddled around a single, shared microphone. They talked about the ongoing Iraq war and the Supreme Court nomination of Samuel Alito.
The Political Gabfest is almost as old as podcasting itself. On the occasion of podcasting's 10th anniversary, we asked John, Emily, and David to revisit their first podcast together. In the video below, John and Emily are in Slate's New York studio, and David's in Slate's D.C. studio. They talk about why the first Gabfest wasn't their best.
Here's the full Dec. 2, 2005, podcast that the Gabfesters discuss in the video. It's the first episode of the Gabfest that features the current panelists, Emily, John, and David. (And here's the show page.)
In fact, though, the Dec. 2 episode wasn't the very first episode of the Gabfest. In the fall of 2005, Andy Bowers, Slate's executive producer of podcasts, tried to recruit various writers for the show. Several other panelists were featured on the Gabfest before (and after) John, Emily, and David assumed their regular hosting duties. Here's a sampling of the earliest Political Gabfests.
Nov. 4, 2005: Featuring, John Dickerson, David Plotz, Will Saletan, and Jack Shafer
Nov. 11, 2005: Featuring John Dickerson, Dahlia Lithwick, and David Plotz
Nov. 18, 2005: Featuring Emily Bazelon, John Dickerson, and Mickey Kaus
Dec. 9, 2005: Featuring Emily Bazelon, John Dickerson, and Jacob Weisberg