I'm Here To Serve
Why catering is the best first New York job you can have.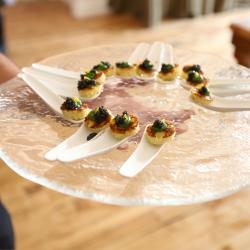 The first priority, on arriving in New York in September 2006, was to get some kind of job. I was 22. I knew that I should try to get my foot in the door with a position, no matter how lowly, in my field of interest: publishing. But my attempts to find entry-level work fell flat, and it was time for some quick thinking.
During college summers, I had done restaurant and catering gigs, so I created two résumés, one for "professional" work and one for food service. I sent the latter to a New York City caterer that specialized in local and organic food. As luck would have it, that fall was a very busy time for parties, so the company was hiring. The starting rate for a waitress was $20 an hour, plus a portion of the tip. I was thrilled. It turned out to be one of the best introductions to New York anyone could ask for. For a year or so, I made good money, met new people, and gazed into lavish windows onto an aspect of city life that I would have never seen as an office temp.
I grew up in the South and had wanted desperately to live in New York since I was 5 years old. I came to the city convinced that it was a place where so many fascinating and glamorous things happened, and I just wanted to be a part of it. I was sure New York was brimming with people I'd want to be like "when I grew up." At first, I thought that the parties I worked at would provide me with some kind of aspirational road map of what "making it" would look like: One day, I would be a guest, rather than a worker, at events like these. While I worked the occasional soiree with a well-known author or two that I admired—is it appropriate to tell Eric Schlosser that you love his work while serving him a canapé?—for the most part, I learned that the people working at the parties were actually much more interesting than the people attending them.
I liked how social catering was. I quickly saw the same fellow workers over and over at gigs and made pals. They were all almost exclusively artists of some kind, mostly actors, some painters or conceptual artists, which I quickly realized was the kind of boho New York I wanted to be a part of. People would ask what I did, and I answered that I was a writer. This was an aspirational declaration at the time.
It was always hard work, exhausting and physically demanding, doing things like setting up big tables or carrying crates of glasses or plates. Sometimes, I was assigned to come around noon and spend hours folding napkins, moving centerpieces, and unstacking chairs, or sometimes I'd be part of the reinforcement crew that would come at 4 p.m., gearing up for when the party would begin. Once the party started everything happened so fast, with so much focus and adrenalin, that I didn't get bored. It was 2006, the pre-crash era, and there were a lot of opulent Christmas parties. Despite fatiguing work, it felt fun and voyeuristic to get to see dazzling events with centerpieces made with crystal-ball topiaries, flickering candles, and copious flowers.
My favorite jobs were passing hors d'oeuvres and doing coat check. Walking with hors d'oeuvres was fun because you got to scope out the guests and interact with them as you told them what you were serving. We weren't allowed to present too empty a tray to any guests, and sometimes you could pop the last tuna tartare or sweet potato samosa in your mouth when you got back to the kitchen.
Coat check was great, because it wasn't very demanding and you often got tips. Usually there was a lot of downtime, where you could chat with the other servers or even sit down. The people who would make a big show of thanking you for getting their coat were the ones that wouldn't actually tip. There were also all sorts of strange and unexpected perks. Sometimes we'd get to take leftover lamb chops, rolls, cookies, or flower bouquets home, which added excitement to my fridge and a flair to my shared Crown Heights apartment. I once got an expensive blanket that was one of "Oprah's Favorite Things" from a benefit. I use it to this day.
Whether it was witnessing a Jersey bride spit out bright neon gum right before she walked down the aisle or attempting to serve a birthday dinner party when the guest of honor was in the back doing lines of coke with his friends for extended stretches, I reveled in the bizarre scenarios and considered them my evening entertainment. One distinctly memorable Christmas party I worked at was for a hedge fund. When the guests arrived, they seemed a bit different than usual. The men all looked as if they could have been athletes with their big chests and broad shoulders, but their faces had started to get doughy and filled out in the years since college. The guys immediately huddled around the bar and instead of getting a beer and mingling, they parked themselves there, demanding shot after shot before the main event got started. Their dates mostly looked alike, with straight blond hair; short, form-fitting dresses; and very high heels.
Towards the end of the night, I noticed one guy who had especially flirty and loud earlier in the evening hunched over in his chair, with his face buried in his hands. I walked over to him and asked him if I could get him anything. He didn't respond. I thought he might be drooling. I walked away self-consciously. Fifteen minutes later, another caterer walked passed me and said, "Did you hear? Some guy puked all over the hallway and passed out on the bathroom." Ten minutes after that, the ambulance arrived, and carted the once boisterous hedgefunder off on a gurney, passed out and open mouthed, tie gone, with vomit on his shirt. "Alcohol poisoning" was the word at the party. His date walked beside the paramedics, clutch in hand, looking at the ground.
While I enjoyed observing the decadence, I found some parties over the top. At an ad agency's Christmas party, the focal point of the event was a large ice sculpture/luge down which we poured shots of Jaegermeister and Red Bull. Attendees would have to crouch at the bottom, standing on their knees in their suits and tight cocktail skirts, mouths opened onto the plastic dispenser. I think we had a cloth to wipe it down between shots.
In addition to Christmas parties, among the more memorable events I worked were nonprofit galas. I quickly learned that personally agreeing with the causes for some of the fundraisers I staffed didn't make for a better work night. One of the parties with the rudest, most demanding guests was a benefit for the Nation Institute. The people attending this high-priced affair asked accusatory rather than inquisitive questions about the food and managed to treat us more like "the help" than people at other events did.
I chatted with interns who were helping out with the party by checking people in and giving gift bags. After dinner was served and we caterers were eating our leftover staff meal, I asked whether there was any extra food we could take out to the interns as they sat outside the gala ballroom. The serving captain said there wasn't enough. I later saw that they'd ordered pizza, and Alice Waters, who was one of the hosts, came out and saw the empty pizza boxes. She began lecturing them that they we eating junk food, and that they shouldn't be eating such terrible things when it was so easy to eat delicious, healthy organic food. I wondered whether she'd considered providing them with any.
Ultimately, one important lesson I got from catering was from the people I worked with. I greatly admired that for the most part, they were committed to their art. Catering was about economics for them, and the job was attractive because of its flexibility—a sign that you were doing well in your chosen field was that you hadn't needed to take any gigs for a while. It was perhaps the only social scene I was ever apart of in which what you did for money in no way defined you. I had such a tunnel-vision focus on becoming a successful writer as soon as possible that it made me realize that a lot of people are committed to what they love and toil away at it in obscurity for years. Just because I wasn't writing for the New York Times by the time was 23 didn't mean I was headed for failure. It was comforting, but also motivating. I also knew that I wouldn't want to be still catering 10 years later.
In post-crash New York, I've often wondered how some of my former co-workers fared as those parties got scaled back in future years or canceled altogether. Though the money was good for what it was, I knew that it would be a hard long-term hustle to create and sustain a middle-class life. I ended up working for a couple of different catering companies to get enough party work and also pieced together other kinds of freelance jobs. Everyone I know had a crap job in their 20s. It's a frustrating, "welcome to reality" experience for perky college grads, but I think catering was a better experience than most. Because there was little commitment and I had no illusions that this job was going to advance my career, it was easy to say goodbye as soon as better offers came along.
While I doubt I'll ever host a party that involves throwing $1,000 worth of green-market garlic shoots on the ground for decoration, I've nonetheless taken some of my catering tricks with me. Whenever I have people over to my apartment, I twirl the cocktail napkins, with my perfected technique, to make a pretty circle just like the one you would have been offered if I were in a black uniform, serving you crabcakes on a silver platter.