Permanent Record
Eva and Bee: Both children of the Depression, one ended up designing Mamie Eisenhower's inaugural gown, the other was a mentor to Calvin Klein.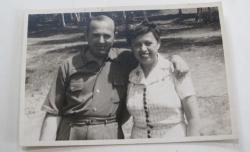 After each presidential election, it's customary for the first lady to donate her inaugural gown to the Smithsonian Institution, where the garments are put on display. The collection includes Mamie Eisenhower's gown from 1953, a pink satin design embellished with over 2,000 rhinestones. A small caption at the exhibit states that the dress was designed by Nettie Rosenstein. So does the Smithsonian's website.
Nettie Rosenstein was an influential fashion designer for more than half a century. She is widely credited with having popularized the iconic little black dress, and some of her designs are in the permanent collection of the Metropolitan Museum of Art. But she did not design Mrs. Eisenhower's inaugural gown. That piece, like much of the apparel sold under the Nettie Rosenstein label over the years, was the work of Rosenstein's sister-in-law and longtime business partner, Eva Rosencrans—an important designer in her own right, although she rarely received public acknowledgment for her work.
Eva Rosencrans died in 1994, but she left behind a short, unpublished memoir that her family had encouraged her to write for posterity two years earlier. In it, she described her early experiences with sewing:
There was a sewing machine in my parents' bedroom, and my mother taught me to use it. My first creation was a little coat for my cat. Then I was inspired to make myself a little checkered suit. … Some years later it was decided that I would go to high school to become a typist, but I told Mama I wanted to sew. She said, "Fine," so I enrolled at trade school. … The final project was making one's own graduation dress, and I made a cotton dress with lilacs and a lilac satin sash. I walked off with first prize.
That trade school was the Manhattan Trade School for Girls, which Eva—then known as Eva Greene—attended from 1914 to 1915. Her report card, like hundreds of others from Manhattan Trade, fell into my hands more than 80 years later. (For the full story on how this happened, look here.) Of all the stories that have emerged from those report cards, Eva's may be the most improbable and inspiring. It's the story of an immigrant girl who grew up poor on the Lower East Side, co-founded a business during the depths of the Depression, and ended up with a career that took her, literally, to the White House.
Eva's son, Bob Rosencrans, now in his 80s and retired from a career in cable television, lives in Connecticut with his wife, Margie. During a recent visit, I asked him if it ever bothered his mother that she didn't receive credit for the Eisenhower gown, or for most of the other work she did.
"She didn't care," he said. "She didn't have that kind of ego. And the Nettie Ronsenstein name was a big name. My mother didn't have any interest in upstaging her."
"It's true, she didn't want any accolades," added Margie. "I used to go to some of their fashion shows, and it was always all about Nettie. She received all the applause, while Eva stood in the back. And she was fine with that, especially since Nettie gave her her start."
Maybe Eva exhibited such humility because she came from such humble beginnings. She was born in Russia in 1901 and came to America as an infant, when her family settled in an apartment on 10th Street and 2nd Avenue in Manhattan. Her father was nominally an ironworker but didn't work much, and her mother stayed at home, so there wasn't a lot of money. That made Eva an ideal candidate for Manhattan Trade, whose progressive mission was to help children from families of modest means.
She chose dressmaking as her trade and appears to have been an excellent student. Most of her grades were Good, Very Good, or Excellent. After she won first prize for her graduation dress, the school arranged a job for her at a local dressmaking shop. "I became an apprentice for six dollars a week," she wrote in her memoir. "We were on the fifth floor at 87th Street and Broadway. I arrived at eight [in the morning], served breakfast to the madam, and then was allowed to sew for a few hours." Sure enough, this job, complete with the salary and the address, is listed as the first entry in Eva's Manhattan Trade employment record. She was then 14 years old and would never receive any additional formal education.
About a year later, Eva left that job and made a decision that would define the rest of her personal and professional life: She went to work for Nettie Rosenstein. Nettie, a native Austrian who was 11 years older than Eva, had married an underwear magnate and was already making a name for herself as a dressmaker. By 1919—three years after Eva came to work for her—she was taking wholesale orders from major department stores. She had also identified Eva as one of her most gifted employees and begun entrusting her with greater responsibilities.
Nettie's brother, Alvin Rosencrans, was often around the showroom. He took a shine to Eva, and in 1922 they were married. Nettie was no longer just Eva's boss and mentor—they were now in-laws.
"Those were the best years of my life," Eva wrote in her memoir. "I loved my work, I loved my husband, and by 1927 I had two wonderful sons." There was a brief detour in 1928, when Nettie unexpectedly decided to retire—she and her husband had done extremely well in the booming stock market. But they lost most of their fortune when the market crashed in 1929. Soon Nettie was ready to restart her fashion label—but only if her sister-in-law would come on board as her associate designer.
"She told me, 'I want to go back into business, but I won't go back unless you go with me, because I don't want the full responsibility of designing,' " Eva later wrote. "So I had my designing room and Nettie had hers." Eva also had a 30 percent stake in the company. She, Nettie, and a third business partner named Charles Gumprecht would work together for the next three decades.
Despite the constraints of the Depression, the revived Nettie Rosenstein label was a tremendous success. By 1937, the operation was a million-dollar company and had been named one of America's most prominent fashion houses by Life magazine. A decade later, Nettie won the prestigious Coty Award, generally considered the top honor in the fashion industry. But her impact wasn't limited to the rarefied strata of the fashion world. As The New Yorker noted in a 1940 profile, "[Rosenstein's clothes] sell for more than most women can afford to pay, but they are so widely copied by cheaper designers that they have had a notable effect on the average woman's wardrobe."
Photos of Eva from this time show a poised, stylish woman. As the years went by, she took over most of the company's design work while Nettie concentrated more on the business side. "Nettie was still doing the little black dress, because she was known for that," said Margie Rosencrans, Eva's daughter-in-law. "She would make that for the older, more conservative customers. But Eva was making the more fun, stylish stuff." (Margie ended up with many of Eva's showroom samples from this period and still has some of them. You can see a selection of them here.)
One day a private client appeared at the showroom with one of her friends: Mamie Eisenhower. This was around 1950, when Ike was the president of Columbia University. Eva catered to Mamie personally, sold her a few pieces, and gave her some woman-to-woman advice. ("I told her just what kind of bra to get.") They soon became friends, which put Eva in the right place at the right time after the 1952 presidential election:
When she became First Lady, she wanted us to make her clothes. The first gown was pink. And the second one [for the 1957 inauguration] was yellow. And then when they displayed them at the Smithsonian, we went down to the White House and had tea with the President and Mrs. Eisenhower. ... And even after that, I would make her clothes. I went down to Washington very often to fit her.
Bob Rosencrans insists that he was never starstruck by his mother's relationship with the Eisenhowers. "It didn't strike me as off the wall or unusual," he told me. "My mother was very talented, and I thought, well, she should be designing the first lady's dress!"
It would be fascinating to know if Eva's teachers at the Manhattan Trade School for Girls—a school that was simply trying to rescue needy girls from poverty—would have been similarly nonchalant about one of their students going on to design clothes for the wife of the world's most powerful man.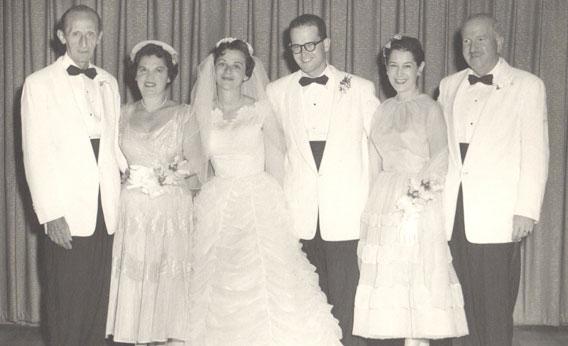 In 1924, 10 years after Eva enrolled at Manhattan Trade, a 14-year-old girl named Beatrice Gross began attending the school. She later married and became Beatrice Zelin. And although she never designed clothing for a first lady, her life was similar to Eva's in many ways: She grew up poor and Jewish on the Lower East Side, went on to have a brush with celebrity, and had a significant impact on the apparel world, one that continues to be felt today.
Beatrice—or Bee, as friends called her—was the daughter of Hungarian immigrants who owned a hand laundry. The family cooked meals in the back of the shop, and Bee and her four siblings helped out by ironing and doing laundry. Showers were taken at a nearby bathhouse.
Bee was a solid student at Manhattan Trade and went on to hold a series of dressmaking positions in the 1920s and '30s (one of which entailed a bit of drama regarding her wages). It's not clear what she did during World War II, but by 1946 she had taken a position teaching patternmaking, sewing, and draping at a fledgling school called the Fashion Institute of Technology.
Today FIT has a modern urban campus in Manhattan, its own museum, over 10,000 students, and a reputation as one of the top fashion schools in the world. But when Bee joined the faculty, FIT was only two years old and was operating on the top two floors of another school's building. There was no basic patternmaking textbook at the time, so Bee and two colleagues wrote one, called How to Draft Basic Patterns. She went on to co-author several other fashion and patternmaking books, some of which are still in print. She later served as a consulting authority on fashion and costume terms for the 1966 edition of the Random House Dictionary.
By the mid-1950s, Bee had stopped teaching and moved into FIT's placement counseling office, arranging jobs for promising students (just as Manhattan Trade had arranged jobs for her). She loved the work, although there was a touchy situation involving a student named Barbara Schatz—she was dating Bee's son, Evan.
"Evan and I met as summer camp counselors during high school," recalled Barbara Zelin, as she's now known. "I mentioned that I was thinking of going to FIT, and he said, 'You don't want to go there,' because his mother worked there. But they gave me a scholarship in 1956, and she became my placement counselor. She made it very tough for me to get the best jobs, because she didn't want to show any favoritism. Evan and I got married before my senior year—Beatrice made my wedding dress—but I kept using my maiden name in school, because Beatrice didn't want people to know we had this connection."
A few years later, in the early 1960s, Bee arranged the first job for a student named Calvin Klein—yes, that Calvin Klein. In a 1993 interview with FIT's alumni magazine, she recalled, "I placed him with a coat and tie company. He was a very nice man, very down to earth."
Although Bee retired from FIT in 1971 and moved to California, where she was involved in several charitable ventures until her death in 2003, she stayed in touch with Klein over the years. "At one point she asked if he could contribute something to a benefit fashion show she was involved with, and he sent her a blazer," said Stephanie Wilson, Bee's granddaughter. "I think it was more for display, not to auction off, because she said it went back and forth between her and Calvin several times. She said it had been his senior project." (Stephanie has since returned the blazer to Klein's company. I tried to contact Klein himself to learn more about the blazer and to hear his recollections of Bee, but he is, shall we say, a very busy man.)
As it happens, my upstairs neighbor, Emily Wang, is a young patternmaker. When I asked if she was familiar with any of Bee's books, she got very excited. "Designing Apparel Through the Flat Pattern—we use that at work!" she said. "It's pretty much the standard text in the field." Once again, I suspect the teachers at Manhattan Trade would be surprised, and very proud, to learn how far one of their students had gone.
Nettie Rosenstein closed her dressmaking operation in 1961. (She spent another 14 years selling jewelry, perfume, and accessories.) But Eva Rosencrans wasn't yet ready to retire, so she became the senior designer for the Ben Reig label, where, for the first time, her name was used in conjunction with her designs. She worked for Reig until 1968 and then took one final job: a two-year stint teaching at the Fashion Institute of Technology.
Eva's short time at FIT coincided with the tail end of Bee Zelin's career there. Nobody I spoke with in Bee's family was familiar with Eva's name, and vice versa, so the two women apparently didn't become close friends. That's understandable, since Bee moved to California after retiring, while Eva stayed in New York for the rest of her life.
Still, the two of them must have crossed paths at some point during those two years at FIT. Did they ever discuss—were they even aware of—their shared history at the Manhattan Trade School for Girls? Did they compare notes on the oddly parallel trajectories of their lives? Did they take a moment to marvel at how far they'd come from their hardscrabble childhoods?
We'll never know. But I'd like to think they did.
(Special thanks to Samantha Bulgerin and Robin Edgerton for their invaluable research assistance on this article. Keep up with the Permanent Record project by following the Permanent Record blog. If you have questions or want to be added to the Permanent Record mailing list, contact me.)