Martini Madness
Welcome to Slate's multipart, multiweek interactive cocktail tournament.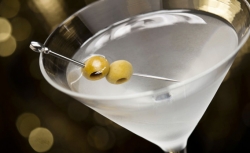 The other day, while relaxing over a couple after-work drinks, it occurred to us at the Slate Drink department that it had been 15 years since we last considered the largest topic in the cocktail world. Fareed Zakaria was on the mic, profitably quoting the cat on sax on "Take Five" who once said that he "wanted to sound like a dry martini." Fifteen years! We sipped our white-wine spritzer and resolved to say something new about the drink. This was, of course, a perverse resolution; at a glance, it seems that everything that might be said about the martini was already said (or yelled or slurringly bloviated or epiphanically scribbled on a cocktail napkin) long ago. Daunted but determined, we put together a harebrained scheme.
To be precise, it is a March harebrained scheme: Welcome to Slate's Martini Madness, a multipart, multiweek reader-interactive project inspired by the NCAA men's Division I basketball tournament. Why go the March Madness route? It occurred to us that people who have a stake in the tournament results will want to celebrate triumphs and drown sorrows and that people who don't also deserve a good way to waste time at the office.
Here is the deal: We sifted through 130 years of history to examine the best and weirdest of what has been written and said about the commingling of gin and vermouth, and we rounded up 80 notable recipes. Check them out, think them over, mix them up if you like—and then upvote or downvote them as you see fit. (Voting ends Sunday, March 17 at 6 p.m. EDT) The 60 most popular recipes will earn seeds in our Martini Madness tournament bracket.
Further, in an attempt to mimic the NCAA's current tournament structure, we are holding eight spots open for recipes contributed by you lovely people. Does the world need to know about the martini genius of your favorite steakhouse or your favorite uncle? Let us know via the widget below; the most promising recipes will earn spots in one of the "play-in games" that tip off on Tuesday, March 19.
And then what happens? I'm not 100 percent sure—and that's part of the fun—but the premise is that your correspondent will judge martinis against one another in single-elimination face-to-face matchups, guided by his taste buds, his mixological principles, and his story sense. Martini Madness should prove a very fine context for elaborating on the essays linked in the recipes contained in these pages—for discussing traditions of cuisine and quirks of culture and the tippling tendencies of major figures in literature, cinema, government, and nuclear physics. It should be highly educational, with Slate readers hearing about science experiments, field trips, and library research and Slate interns learning how to hold their liquor, because no way I am drinking all these by myself.
Submit Your Recipe
Submit Your Idea
On the second Monday in April, we shall declare a champion. Regardless of how certain spin doctors may present this project, we make no claims that this tournament's ultimate victor might somehow represent the Greatest Martini Ever. (Oh, heavens, no; martini debates will continue until doomsday, at which point people in the kingdom of paradise will start arguing about which nymph makes the best ambrosia.) But we do promise a Pretty Good Time.