The DoubleX Gabfest: The Broken Homes and Betty Ford Edition
Listen to Slate's show about Betty Ford's legacy, the Gen X divorce memoir In Spite of Everything, and the Jamie Leigh Jones rape case.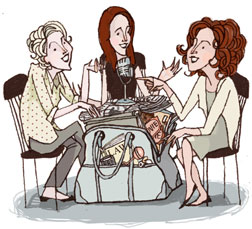 To listen to the DoubleX Gabfest, click the arrow on the player below:
The DoubleX weekly "coffee talk" endorsements:
Hanna Rosin shamefully endorses the reality show My Big Fat Gypsy Wedding, because it portrays the most confused gender subculture she's observed in a long time.
Jessica Grose offers a contest, not an endorsement. In an attempt to cure herself of upspeak—which makes her sound like an overgrown teenager—she would like readers to suggest a penalty for upspeaking on future gabfests. For instance: She must donate a nickel to a particular charity every time she upspeaks. Send ideas to our new gmail address, doublexgabfest@gmail.com, or put them on our Facebook wall.
Here are some links to other things we discussed this week: