Mitt's Income vs. Your Income
How long would it take the GOP candidate to earn what you make in a year?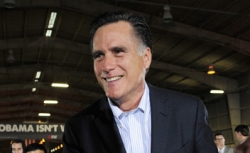 Mitt Romney released his 2010 tax return on Monday. His total income for the year was listed as $21.6 million, more than one-half of which came from capital gains. How does that stack up against your income? Enter your annual income below to find out how long it would have taken Mitt Romney to earn the same amount of money. (Don't worry, we're not collecting any data you type in.)

How long would it take Mitt Romney to earn what you make in a year?
Enter an income:
Use your 2010 income for an apples-to-apples comparison. This calculator does not adjust for inflation, and, due to the nature of Romney's income, his 2011 income will likely be very different.