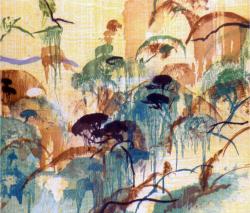 Click the arrow on the audio player to hear Gail Mazur read this poem. You can also download the recording or subscribe to Slate's Poetry Podcast on iTunes.







Asleep until noon, I'm dreaming
we've been granted another year.
You're here with me, healthy.
Then, half-awake, the half-truth—
this is our last day. Life's leaking
away again, and this time, we know it.
Dear body, I hold you, pleading,
Don't leave! but I understand you
can't say anything. Who are we?
Are we fictional? We don't look
like our pictures, don't look like
anyone I know. Daylight
flicks through a bamboo grove,
we approach the Forbidden City,
looking together for the Hall
of Fulfilling Original Wishes.
Time is the treasure, you tell me,
and the past is its hiding place.
I instruct our fictional children,
The past is the treasure, time
is its hiding place. If we told him
how much we love him, how much
we miss him, he could stay.
But now you've taken me back
to Luoyang, to the Garden of Solitary Joy,
over a thousand years old—
I wake, I hold your hand, you let me go.