Foreign Telly on Hulu: A User's Guide
The best TV shows you've never seen are hiding on your computer.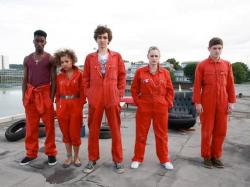 For a young TV lover growing up in England, Christmas wasn't just presents and a festive meal. It was all about television. There was so much good stuff available between Christmas Eve and New Year's Day—Christmas episodes, movie premieres, and wacky specials—that I had to plan out my viewing schedule with military precision. It's no different in 2011: After the mince pies and Christmas pud, Brits can take in brand new episodes of Doctor Who, Downton Abbey, and Absolutely Fabulous. Bliss!
The U.S. TV networks, on the other hand, treat the second half of December like a very long Saturday night. Starting next week, the TV schedule is a solid wall of reruns and college football bowl games. How's a TV addict supposed to cope with this programming desert? You probably have a few shows banked in the DVR. But enough for 14 days?
I wish it were possible to fill the holiday gap by tuning in to those amazing British broadcasts. Happily, you can create your own Commonwealth viewing station by seeking out the best of the Australian, British, and Canadian shows available on Hulu. With my guidance, you can cross "find something to watch" off your holiday to-do list—and add new swear words to your vocabulary.
You might think the imports available on Hulu would be second-rate—after all, if a show was any good, wouldn't some enterprising U.S. channel have snapped it up? The fact is, many excellent programs are just too spicy or too alien for American television.
How much is there to watch? I found so many great shows that I ordered an iPad adapter that will allow me to watch Hulu Plus on my big-screen TV. I tracked down at least 50 foreign shows among Hulu's offerings. Some of the good stuff—like Doc Martin, Masterpiece, and Being Erica—regularly airs on U.S. television. Below, I've plucked out five terrific, little-known series that should give a sense of the quality and range of programs you'll find on Hulu this Christmas (or anytime).
Misfits (U.K.; 13 48-minute episodes so far; 2009-current)
For fans of: Skins UK, Heroes
Brilliantly written and psychologically astute, Misfits is one of the best shows I've seen in ages, but it's obvious why it could never play on American television: It's sweary, sexed-up, and well-stocked with inscrutable British slang. Misfits is the story of five young offenders who acquire strange powers in a freak electrical storm—in the first season, Kelly can hear what people think, Alisha drives people into a sexual frenzy at the slightest touch, Curtis can turn back time, and Simon can become invisible.* It takes a while for Nathan's powers to manifest, but from the very beginning he's funny, charming, and incredibly annoying. Hulu will start to air Season 3 on Dec. 19, with a new episode every Monday. Older seasons are available on iTunes and from Amazon, at $1.99 per episode, $2.99 for HD. (A U.S. remake may be on the way.)
The Librarians (Australia; 20 26-minute episodes; 2007-10)
For fans of: The Office, The Middle
Frances O'Brien, head librarian of the Middleton Learning Centre, is the worst boss since David Brent, but unlike the paper-pusher from Slough, Frances doesn't think she's funny or hip—she's just hopelessly out of her depth. It's excruciation comedy at its most agonizing (casual Islamophobia and complete incompetence were never so funny), but a smart, flashback-heavy structure keeps it watchable. A native-born American who wandered through the living room while I was watching The Librarians announced that Aussie actors enunciate better than Brits—no small consideration, since there are no subtitles on Hulu.
The Book Group (Scotland; 12 26-minute episodes; 2002-03)
For fans of: Curb Your Enthusiasm, Starved
There are funnier Britcoms on Hulu's roster, but who can resist a show that finds laughs in loneliness—and does so in a charming Glaswegian accent? In the first episode, Clare, a miserable American living in Glasgow, attracts an odd combination of Scots and foreign footballers' wives to discuss Jack Kerouac's On the Road. They eventually form a strange kinship, visiting each other's homes and—in theory at least—discussing a different book every week. The Book Group manages to build emotional connections without ever straying toward the sentimental.
Kingdom (U.K; 18 46-minute episodes; 2007-09)
For fans of: Doc Martin, Ballykissangel
Kingdom, in which Stephen Fry plays a solicitor in a "dozy East Anglian backwater," follows a template that is oddly common in Britain and occasionally pops up in America in shows like Northern Exposure or Hart of Dixie: An awkward middle-class professional practices in a beautiful country setting surrounded by colorful local characters with quirky problems. Given Fry's fame, and the presence of marvelous actors like Celia Imrie and Phyllida Law, I'm surprised this show, which HAS aired on a few public television stations, has such a low profile in the United States. It's smart and likable if a little slow-moving. (Also streaming on Netflix and IMDB, and on DVD from Amazon.)
The Only Way Is Essex (U.K.; 26 28-minute episodes; 2010-11)
For fans of: Jersey Shore, Charlie Rose
A necessary corrective to the widely held belief, propagated by Masterpiece Theatre and Christopher Hitchens, that Britons are all erudite and serious. A pre-show disclaimer warns: "This programme contains flash cars, big watches, and false boobs. The tans you see might be fake, but the people are all real, although some of what they do has been set up purely for your entertainment." In other words, The Hills comes to the British Home Counties. Worth watching if you want to introduce phrases like "scruffy as bollocks" into your vocabulary, or if you've always wondered what a vajazzling session looks like.
Correction, Dec. 15, 2011: This article originally used the wrong name for one of the characters in Misfits. It is Kelly, not Kerry. (Return to the corrected sentence.)