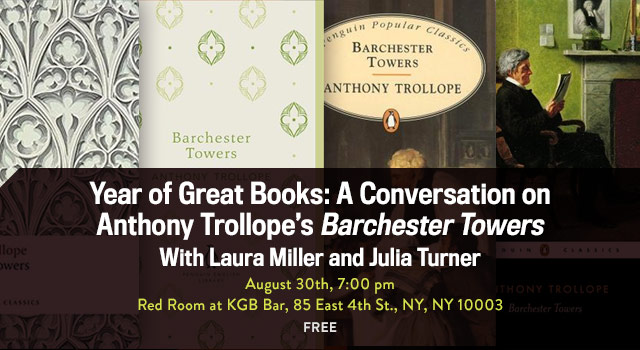 Want to rediscover the joys and surprises of great literature? We're spending 2016 reading and discussing great novels alongside Laura Miller and her fellow Slatesters. In August, Laura and Slate editor-in-chief Julia Turner will be talking about Anthony Trollope's Barchester Towers.
On August 30th join Laura, Julia, and fellow book lovers in New York for a live conversation on Trollope's great novel and its place in English literature. Hear their conversation, ask questions, and make suggestions about what A Year of Great Books should read next.
This is event is free. The event will be located in the KGB Bar's Red Room at 85 East 4th Street. Drinking and tipping are encouraged.
Non-members: If you'd like to learn more about this Slate Academy and Slate Plus membership, visit Slate.com/GreatBooks
Featured Speakers Bios

Laura Miller is a books and culture columnist for Slate and the author of The Magician's Book: A Skeptic's Adventures in Narnia. Follow her on Twitter.
Julia Turner is the editor in chief of Slate and a regular on Slate's Culture Gabfest podcast.
Map