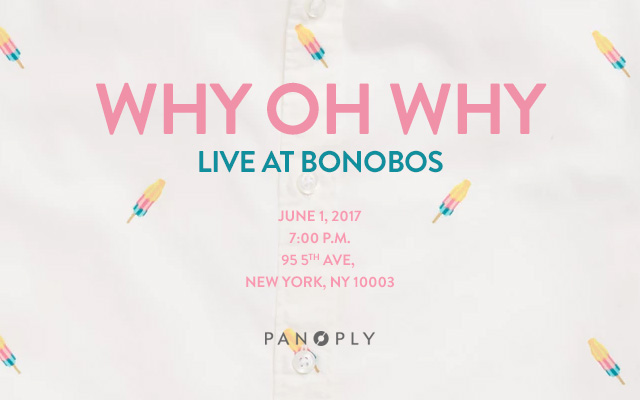 Kick off the summer with Why Oh Why live at Bonobos in NYC. Join host Andrea Silenzi for a frank and fun discussion on the quirks of modern dating with special guests, beloved comedy power couple, Naomi Ekperigin (Broad City, Difficult People) and her almost-husband/co­–cat parent/Jew-boo Andy Beckerman (The Pete Holmes Show). "Say yes to the party" and enjoy signature cocktails, swag giveaways, and special nametags to help single guests meet other podcast fans in the area.
This event is made possible by Bonobos. Who doesn't want a boyfriend in great-fitting pantswho wears Bonobos? You should never underestimate the effect pants with the right fit can have on a man. And that's why Bonobos makes great-fitting men's clothes. Founded by fashion industry outsiders who were frustrated with pants that didn't fit, Bonobos meticulously designed a perfect-fitting pair of pants, and adapted that philosophy to shirts, suits, jackets, and more, making the perfect fit paramount.
RSVP to be sure to get into the show and help reserve your own Why Oh Why: Live at Bonobos swag.
Map