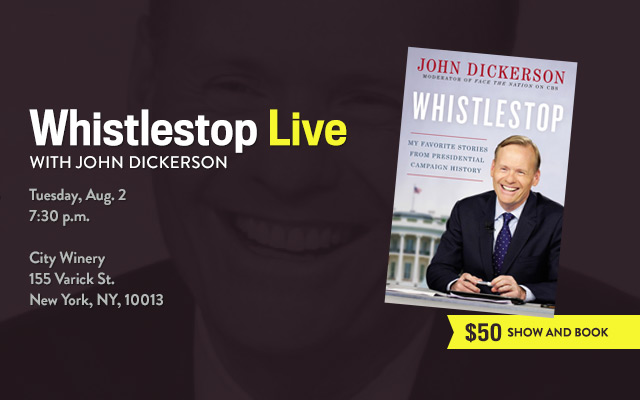 In his new book, Whistlestop: My Favorite Stories From Presidential Campaign History, John Dickerson tells the tales behind the most memorable moments in American presidential elections.
The Face the Nation moderator and Slate columnist presents a unique live show full of stories, images, and surprises from Whistlestop and his own time on the campaign trail. Presidential campaigns are a contest to lead the most powerful country on Earth. The stakes are high. The characters are striving and full of ego. The battle of ideas has a clear end, with winners and losers, and along the way there are sharp turning points—primaries, debates, conventions, and scandals—that squeeze candidates into emergency action, frantic grasping, and heroic gambles. Only John Dickerson can bring the stories to life in such a human way and properly place our current political moment in the context of history.
Join Slate for a special event to celebrate the launch of Whistlestop and see John Dickerson tell the political stories that mean the most to him. Tickets to the show include a copy of the book and an opportunity to get a book signed by the author after the show.
If you are a Slate Plus member, you will receive a 15% discount on your ticket. Use your Upcoming Events tool in the Slate Plus dashboard on the right side of the Slate Plus home page to receive your individualized discount code.
Featured Speakers Bios
John Dickerson is a co-anchor of CBS This Morning, co-host of the Slate Political Gabfest, host of the Whistlestop podcast, and author of Whistlestop and On Her Trail.
Map