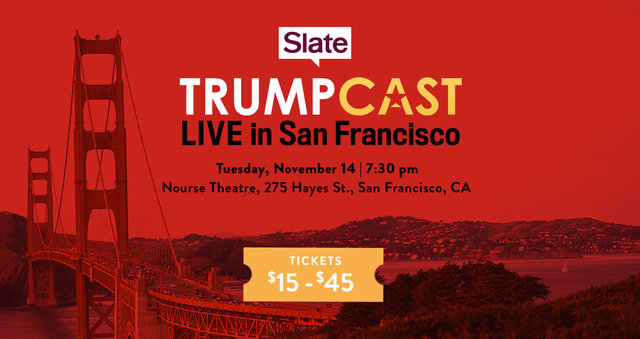 Slate's Trumpcast will be making its way to the Golden Gate City for its first-ever live show in San Francisco! Join chairman of The Slate Group Jacob Weisberg, Slate chief political correspondent Jamelle Bouie, and author Virginia Heffernan for a Trump administration news roundup with frank and fun commentary on the most pressing topics of the week. Peabody- and Emmy-winning host of Reveal, Al Letson will be there to discuss his work. And enjoy a special live appearance from Trumpcast's Trump impersonator extraordinaire, John Di Domenico.
For a very limited number of fans, we will also host a pre-show cocktail hour with the hosts from 6–7 p.m. Those who purchase the ticket package will receive one complimentary drink with the hosts beforehand. The venue will be within a short walk of the live show, and an email with the location will go out to attendees two weeks prior.
Doors open at 6:30 p.m. for the live show.
If you are a Slate Plus member, you will receive 30 percent off your purchase. Use your Upcoming Events tool in the Slate Plus dashboard on the right side of the Slate Plus home page to receive your individualized discount code to access tickets.
If you'd like to become a Slate Plus member, click here.
Featured Speakers Bios

Virginia Heffernan is a contributing editor at Wired, a columnist at the Los Angeles Times, and a co-host of Trumpcast.
Jacob Weisberg is chairman and editor-in-chief of The Slate Group and author of The Bush Tragedy. Follow him on Twitter.
Map