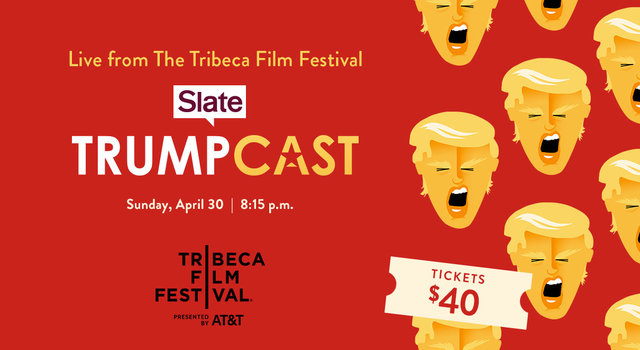 Get a dose of politics and comedy with Slate's Trumpcast Live from The Tribeca Film Festival! Host Jacob Weisberg is joined by Slate Chief Political Correspondent Jamelle Bouie, author Virginia Heffernan, and more for a frank conversation on the first 100 days of the Trump administration.
Slate Plus members you will receive a discount starting at 25 percent off your ticket to this show and select Festival screenings and events. The discount code does not apply to General Screening Matinees, Beacon Theater, or Radio City Music Hall events.
Use your Upcoming Events tool in the Slate Plus dashboard on the right side of the Slate Plus home page to receive your individualized discount code.
If you'd like to become a Slate Plus member, click here.
Featured Speakers Bios

Virginia Heffernan is a contributing editor at Wired, a columnist at the Los Angeles Times, and a co-host of Trumpcast.
Jacob Weisberg is chairman and editor-in-chief of The Slate Group and author of The Bush Tragedy. Follow him on Twitter.
Map