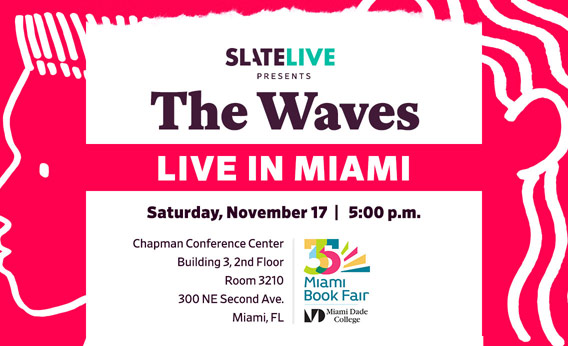 The Waves, your favorite podcast about gender, feminism, relationships, politics, culture, and current events, will be live at the Miami Book Fair this fall. Join Slate staff writer Christina Cauterucci, New York magazine's Noreen Malone, and Invisibilia host Hanna Rosin to talk through the week's news and culture. Authors Celeste Ng and Rebecca Traister will join the conversation. Bring your best "Is it sexist?" questions for the Q&A period.
Tickets are free. The Slate Plus discount does not apply.
Featured Speakers Bios

Christina Cauterucci is a Slate staff writer.

Hanna Rosin is the co-host of NPR's Invisibilia and a founder of DoubleX. She is also the author of The End of Men. Follow her on Twitter.
Map