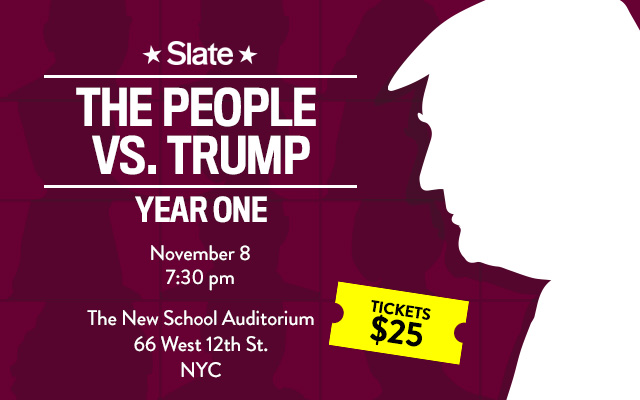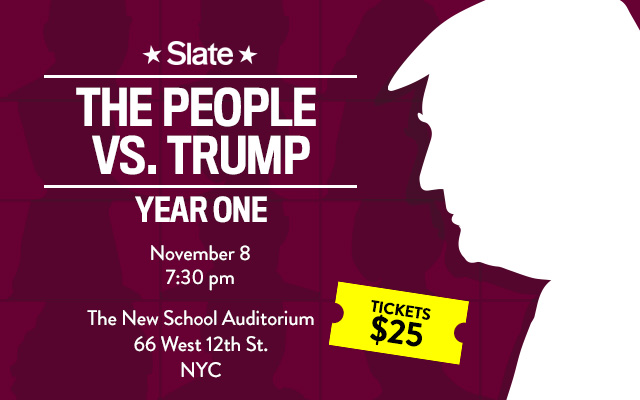 The shocking results of the 2016 election left people wondering how our country would change under a Trump presidency. Many Americans feared the worst, some hoped for the best, and others leapt into action. Now, one year out, Slate will take stock of the year that was and celebrate the work of those who have served as a check on the administration.
Join Slate writers for a series of one-on-one conversations with those at the forefront of politics, media, the law, and activism as they compare notes on the lessons, challenges, and victories they've seen over the past year—and what they expect from the next.
Featuring …
Jamelle Bouie, Slate chief political correspondent,
in conversation with
Tom Perriello, former Democratic gubernatorial candidate for Virginia
Isaac Chotiner, Slate writer,
in conversation with
Jelani Cobb, staff writer for the New Yorker and professor at Columbia Journalism School
Michelle Goldberg, New York Times columnist,
in conversation with
Tamika Mallory, Women's March national co-chair and activist
Dahlia Lithwick, Slate senior editor and legal writer,
in conversation with
Becca Heller, founder of the International Refugee Assistance Project
Jordan Weissmann, Slate's senior business and economics correspondent,
in conversation with
Rashad Robinson, executive director of Color of Change
and hosted by Julia Turner, editor in chief of Slate
If you are a Slate Plus member, you will receive 30 percent off your purchase. Use your Upcoming Events tool in the Slate Plus dashboard on the right side of the Slate Plus home page to receive your individualized discount code to access tickets.
If you'd like to become a Slate Plus member, click here.
Featured Speakers Bios
Map