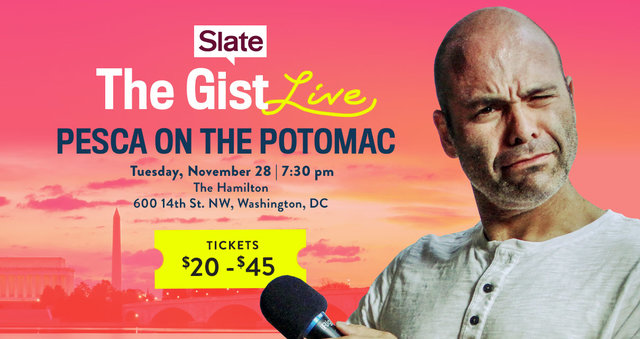 Get your tickets now! Mike Pesca is making his way to the Potomac for The Gist's first live show in Washington. Get your much-needed dose of culture and politics from your favorite podcast host, Mike Pesca. He'll be joined by an amazing lineup of guests including Perry Bacon Jr., political writer for FiveThirtyEight; Bob Garfield, co-host of On the Media from WNYC; Chris Molanphy, host of Slate's Hit Parade; Alexandra Petri, columnist for the Washington Post; Holly Twyford, award-winning actress; and Benjamin Wittes, editor in chief of Lawfare to discuss the most compelling and thought-provoking topics of the week. As with every episode of The Gist, it will end with the Spiel.
Doors open at 6:30 p.m. for the live show.
If you are a Slate Plus member, you will receive a 30 percent discount off a select number of seated general admission tickets. Use your Upcoming Events tool in the Slate Plus dashboard on the right side of the Slate Plus home page to receive your individualized discount code to access tickets.
If you'd like to become a Slate Plus member, click here.
Featured Speakers Bios

Mike Pesca is the host of the Slate daily podcast The Gist. He also contributes reports and commentary to NPR.
Map