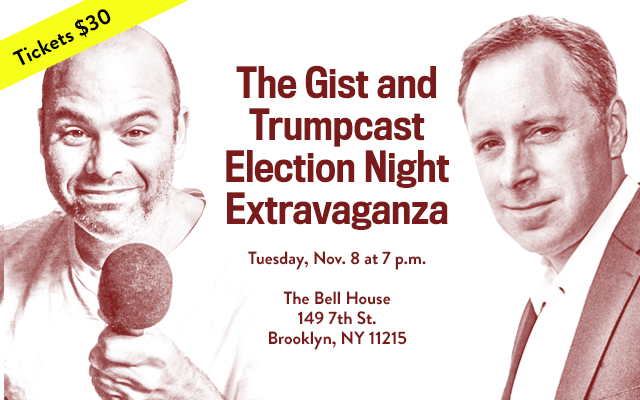 Slate's Mike Pesca and Jacob Weisberg have guided podcast listeners along the wild journey of the 2016 election. They've held our hands through the questionable, the bizarre, and the downright scary—and it all comes down to one night.
Join The Gist and Trumpcast on Nov. 8 for a live election night extravaganza at the Bell House in Brooklyn. Party with your favorite podcasters, and as the evening progresses, Mike and Jacob will discuss up-to-the-minute results with an all-star lineup of influential thinkers, writers, and comedians. This one-of-a-kind gathering will be the ideal place to watch the country's future unfold—and perhaps say a collective farewell to Trumpcast when the Donald loses.
Doors open at 6:30 p.m. The show starts at 7 p.m. and goes until a winner emerges or midnight—whichever comes first.
If you are a Slate Plus member, you will receive 30 percent off your purchase. Use your Upcoming Events tool in the Slate Plus dashboard on the right side of the Slate Plus home page to receive your individualized discount code.
If you'd like to become a Slate Plus member click here.
Featured Speakers Bios

Mike Pesca is the host of the Slate daily podcast The Gist. He also contributes reports and commentary to NPR.
Jacob Weisberg is chairman and editor-in-chief of The Slate Group and author of The Bush Tragedy. Follow him on Twitter.
Map