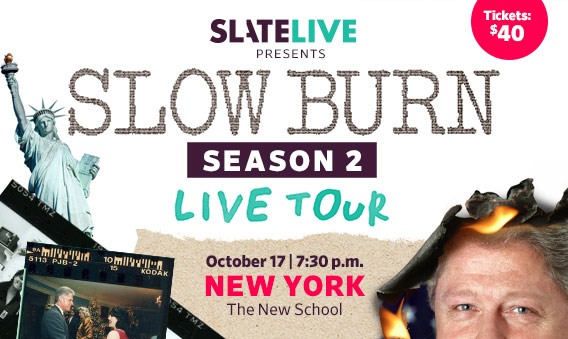 From Slate, Slow Burn is back with Season 2, and now is your chance to experience the hit podcast series live! Join us for our first-ever nationwide tour with host Leon Neyfakh, your guide to everything you never knew about Bill Clinton, Monica Lewinsky, and the scandal that nearly ended a presidency. The Slow Burn team will hit the road to New York after the season wraps to keep the conversation going.
New York Times Magazine writer Emily Bazelon, chairman of The Slate Group Jacob Weisberg, and critic-at-large for the New York Times Wesley Morris will talk to Leon about how the Clinton era looks through modern eyes—and what it was like to live through it at the time. Enjoy a live performance of an all-new, original Slow Burn story exploring the mysterious forces that steer history. Prepare to hear about Clinton World characters you've forgotten or never knew about, and to reflect on whether the past is more—or less—than a series of arbitrary chain reactions.
If you are a Slate Plus member, you will receive 30 percent off your purchase. Use your Upcoming Events tool in the Slate Plus dashboard on the right side of the Slate Plus home page to receive your individualized discount code.
If you'd like to become a Slate Plus member click here.
Featured Speakers Bios

Emily Bazelon is a staff writer at the New York Times Magazine and the author of Sticks and Stones.
Jacob Weisberg is chairman and editor-in-chief of The Slate Group and author of The Bush Tragedy. Follow him on Twitter.
Map