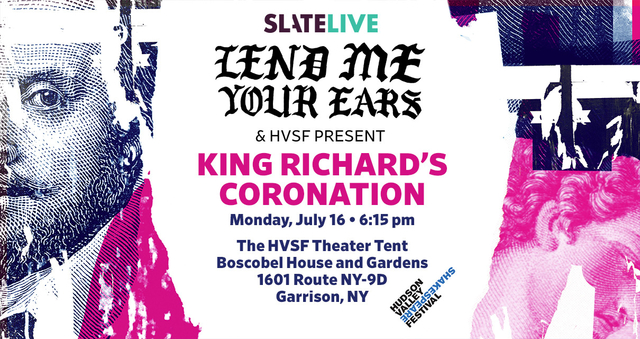 In honor of King Richard II's coronation on this day in 1377 (641 years ago), Lend Me Your Ears host Isaac Butler will serve up a pre-show discussion with HVSF artists and scholars prior to the evening's performance of RICHARD II. Enjoy special treats and giveaways before the show. This pre-show event is free and open to the public, and tickets for RICHARD II are available for purchase here.
If you are a Slate Plus member, you will receive 25 percent off your purchase. Use your Upcoming Events tool in the Slate Plus dashboard on the right side of the Slate Plus home page to receive your individualized discount code.
Featured Speakers Bios

Isaac Butler hosted Slate's Lend Me Your Ears podcast. He is the co-author, with Dan Kois, of The World Only Spins Forward: The Ascent of Angels in America, and is currently working on The Method, a narrative history of method acting, for Bloomsbury.
Map