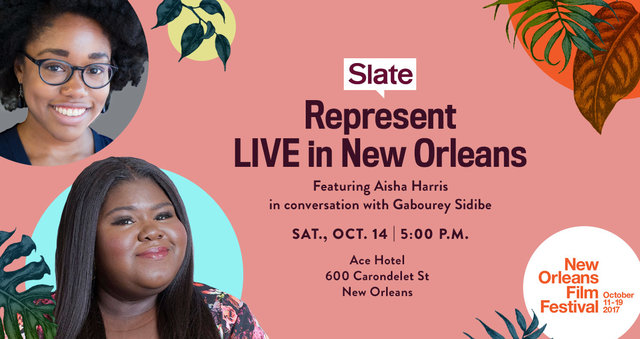 For the first time ever, Slate's Represent will be live at the New Orleans Film Festival!
Join host Aisha Harris in conversation with actress and director Gabourey Sidibe to watch and discuss her directorial debut release, The Tale of Four. This 20-minute short film is a multilayered story inspired by Nina Simone's "Four Women," spanning the course of a day in the lives of four different women connected by their quest for love, agency, and redemption.
Slate's Represent is a space for discussion about culture created by women, people of color, and those in the LGBTQ community. Aisha dives deep into conversations with critics about the latest pop cultural news and with filmmakers in the industry about what they do and how they do it. Audience members can stick around for a live Q-and-A session immediately after the show.
This event is free for All-Access, Weekender, and All-Film festival pass holders. Tickets are $20 for the general public.
Passes to the New Orleans Film Festival are available for purchase now at https://neworleansfilmsociety.org.
Featured Speakers Bios

Aisha Harris is a Slate culture writer and host of the Slate podcast Represent.
Map