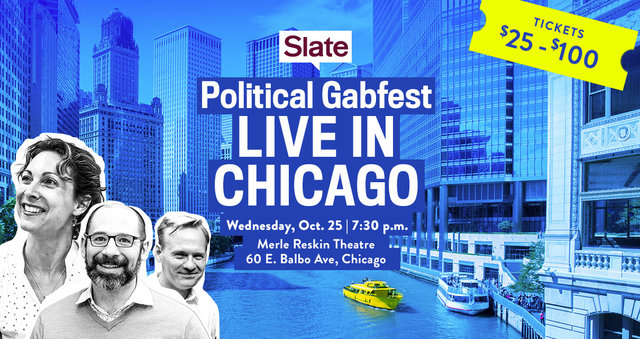 Just Added! Cook County State's Attorney Kimberly M. Foxx
Get ready, Chicago! Slate's Political Gabfest is making its way to your city this fall. Join Emily Bazelon of the New York Times Magazine, John Dickerson of Face the Nation, and David Plotz of Atlas Obscura at Merle Reskin Theatre at 7:30 p.m. on Oct. 25 for a mix of comedic banter and in-depth analysis on the latest political news and current events. A live Q-and-A session will follow immediately after the show.
Update: VIP tickets are sold out. For a very limited number of fans, we will also host a pre-show cocktail hour with the hosts from 6–7 p.m. Those who purchase the ticket package will receive one complimentary drink with the hosts beforehand and select seating at the show. The venue will be within a short walk of the live show, and an email with the location will go out to attendees two weeks prior.
Doors open at 6:30 p.m. for the live show.
If you are a Slate Plus member, you will receive 30 percent off your purchase. Use your Upcoming Events tool in the Slate Plus dashboard on the right side of the Slate Plus home page to receive your individualized discount code to access tickets.
If you'd like to become a Slate Plus member, click here.
Featured Speakers Bios

Emily Bazelon is a staff writer at the New York Times Magazine and the author of Sticks and Stones.
John Dickerson is a co-anchor of CBS This Morning, co-host of the Slate Political Gabfest, host of the Whistlestop podcast, and author of Whistlestop and On Her Trail.

David Plotz is the CEO of Atlas Obscura and host of the Slate Political Gabfest.
Map