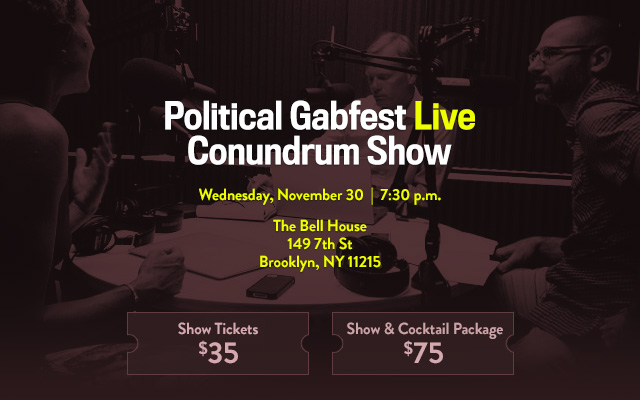 Would you rather be a dragon or own a dragon? How serious of a crime would your mother or father have to commit before you turned him or her in? Would you kill baby Hitler? Join Emily Bazelon of the New York Times Magazine, John Dickerson of Face the Nation, and David Plotz of Atlas Obscura for a special live Political Gabfest conundrum show. Watch the hosts' thoughtful and hilarious consideration of tough puzzles like these and challenge them with your own.
For a very limited number of fans, there will be a preshow cocktail hour with the hosts from 6–7 p.m. Those who purchase the ticket package will receive one complimentary drink with the hosts beforehand and early seating at the show.
Doors open at 6:30 p.m. for the live show.
Presale for Slate Plus members begins at noon on Wednesday, Oct. 12. Tickets will be on sale to the public at noon on Thursday, Oct. 13. If you are a Slate Plusmember, you will receive 30 percent off your purchase. Use your Upcoming Events tool in the Slate Plus dashboard on the right side of the Slate Plus home page to receive your individualized discount code.
If you'd like to become a Slate Plus member click here.
Featured Speakers Bios

Emily Bazelon is a staff writer at the New York Times Magazine and the author of Sticks and Stones.
John Dickerson is a co-anchor of CBS This Morning, co-host of the Slate Political Gabfest, host of the Whistlestop podcast, and author of Whistlestop and On Her Trail.

David Plotz is the CEO of Atlas Obscura and host of the Slate Political Gabfest.
Map