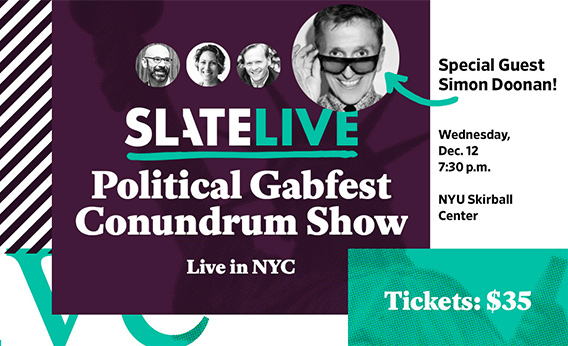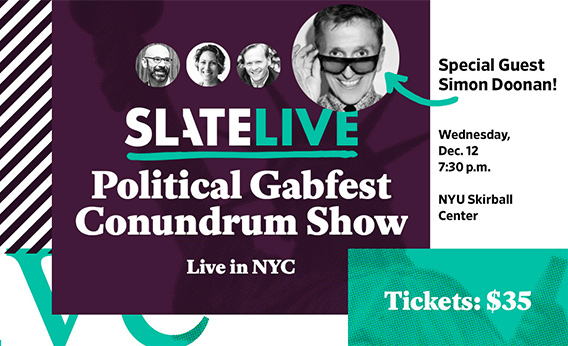 Just Added! Simon Doonan, Creative Ambassador-at-Large for Barneys and judge on NBC's Making It.
Would you rather stop aging at 30 and live for 30 more years or stop aging at 70 and live for 70 more years? Is it insulting to get someone the gift of a cleaning service? Would you rather work for a great boss who's a terrible person or work for a person who's terrible at his job but a great person? Join Emily Bazelon of the New York Times Magazine, John Dickerson of CBS This Morning, and David Plotz of Atlas Obscura at the NYU Skirball Center for a special live Political Gabfest conundrum show. Watch the hosts' thoughtful and hilarious consideration of tough puzzles like these and challenge them with your own.
For a very limited number of fans, there will be a pre-show cocktail hour with the hosts from 6–7 p.m. Those who purchase the $120 VIP ticket will receive one complimentary drink with the hosts before the show. The cocktail hour will also be at the Skirball Center.
Doors open at 7:00 p.m. for the live show.
If you are a Slate Plus Member, you will receive 30 percent off your purchase. Use your Upcoming Events tool in the Slate Plus dashboard on the right side of the Slate Plus home page to receive your individualized discount code.
If you'd like to become a Slate Plus member click here.
Featured Speakers Bios
Map