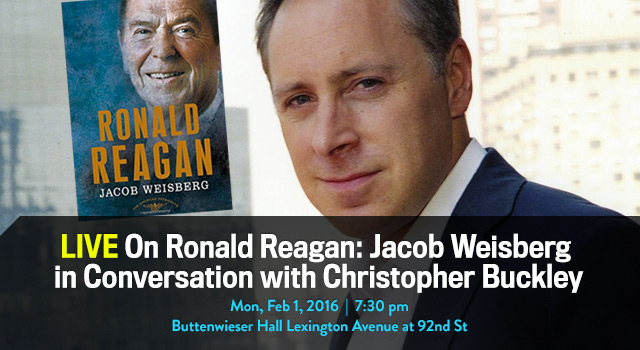 Join the Slate Group's Jacob Weisberg for a compelling conversation about the life and legacy of President Ronald Reagan, the subject of his landmark new biography Ronald Reagan.
He talks with the award-winning, bestselling writer Christopher Buckley whose new novel is entitled The Relic Master. Christopher's father, William F. Buckley, Jr., is credited as the intellectual force behind the modern American conservative movement, and he shared a thirty-year friendship with Reagan.

Jacob Weisberg is chairman of The Slate Group and the former editor of Slate magazine. He is the author of The Bush Tragedy and the creator of the Bushismsseries, among other books. Weisberg previously worked for The New Republic and was a contributing writer for The New York Times Magazine, a contributing editor to Vanity Fair, and a columnist for the Financial Times. He lives in New York City.

Christopher Buckley is a novelist, essayist, humorist, critic, magazine editor and memoirist. At age 18 he shipped out as a deckhand aboard a Norwegian tramp freighter. He graduated cum laude from Yale and at 24 became managing editor of Esquire magazine. At 29 he became chief speechwriter to Vice President George H.W. Bush. He was founding editor and for 17 years editor in chief of Forbes Life magazine. Buckley has written for most major newspapers and magazines and has lectured in over 70 cities around the world. His novelThank You For Smoking was made into a successful movie in 2006. He was awarded the Thurber Prize for American Humor and the Washington Irving Medal for Literary Excellence. His newest book, The Relic Master, a historical novel set in the early 16th century, was recently published by Simon and Schuster. His books have been translated into sixteen foreign languages.
Featured Speakers Bios
Jacob Weisberg is chairman and editor-in-chief of The Slate Group and author of The Bush Tragedy. Follow him on Twitter.
Map