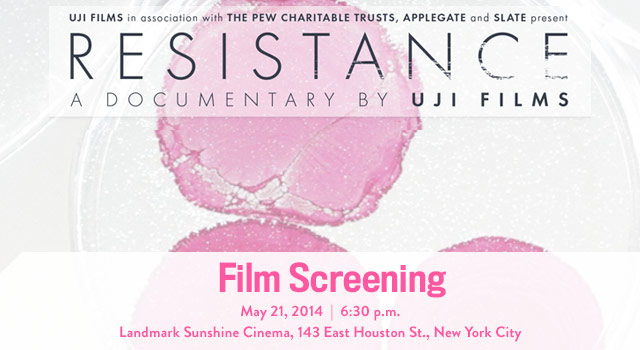 We are no longer taking RSVPs.
Join L.V. Anderson for an evening devoted to superbugs with the screening and discussion of the film Resistance. This film traces the history of mass-produced antibiotics from when they were first introduced in the 1940s and impact that these powerful drugs have had over the last seventy years on everything from agriculture to the armed forces to resistant infections, which sicken two million Americans each year.
Join us for a reception where you can meet the filmmakers at 6:30 p.m., followed by the screening, which will start at 7 p.m. After the film, stay for a lively and thoughtful panel discussion moderated by L.V. Anderson with filmmaker Michael Graziano; Dr. Martin Blaser, director of NYU Human Microbiome Program; and Urvashi Rangan, executive director of the Consumer Reports Food Safety and Sustainability Center.
This event is open to all Slate Readers. Please send an RSVP email and state the total number in your party.
If you are a Slate Plus member, you will receive priority seating. To RSVP as a Slate Plus member, RSVP via the Upcoming Events tool in the Slate Plus dashboard on the right side of the Slate Plus homepage. Your individualized discount code must be included in the RSVP email.
If you'd like to become a Slate Plus member, click here.
Seating is limited.
The film is brought to you by UJI Films in association with the Pew Charitable Trusts, Applegate, and Slate.
Map