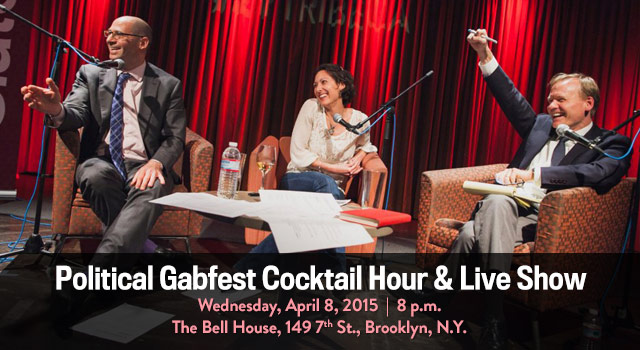 Slate's Political Gabfest is coming to Brooklyn on April 8!
Hosted by Emily Bazelon, John Dickerson, and David Plotz, the show reaches an audience of almost a quarter-million people every month. Join us for a bold and witty discussion of today's politics and current events with a Q-and-A session immediately after the show.
Advertisement

We will also have a preshow cocktail hour with Emily, John, and David from 6:30–7:30 p.m. Each ticket holder will receive one complimentary drink. Only 30 tickets for the cocktail hour will be sold, so get them while they last!
Doors open at 6 p.m. for cocktail hour and 7:30 p.m. for the live show.
Slate Plus members will have access to presale tickets starting Friday at 2 a.m. Use your discount code to unlock the presale.
Tickets will open to the public starting Sunday at 2 a.m.
If you are a Slate Plus member, you will receive 30% off your ticket purchase. Use your Upcoming Events tool in the Slate Plus dashboard on the right side of the Slate Plus homepage to receive your individualized discount code.
If you'd like to become a Slate Plus member, click here.
Featured Speakers Bios

David Plotz is the CEO of Atlas Obscura and host of the Slate Political Gabfest.

Emily Bazelon is a staff writer at the New York Times Magazine and the author of Sticks and Stones.
John Dickerson is a co-anchor of CBS This Morning, co-host of the Slate Political Gabfest, host of the Whistlestop podcast, and author of Whistlestop and On Her Trail.
Map